Join the Makerspace Movement! Attend an Open House Friday at Hancock
Join the Makerspace Movement! Attend an Open House Friday at Hancock
Hancock was one of 24 colleges in the state to receive a CCC Maker Implementation Grant last summer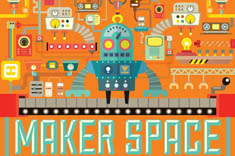 FEBRUARY 1, 2018--People of all ages who want to show off their creativity should plan to attend the Makerspace Open House on Friday, February 2, from 1-4 p.m. The event will take place in O-112 on Allan Hancock College's Santa Maria campus.
The maker movement centralizes around the idea that everyone has the capacity and the ability to make something from start to finish.
"Makerspace is an open-ended term that refers to a space in which individuals can be creative, create items and learn new skills," said Susie Kopecky, a faculty librarian at Hancock. "The concept stems from a growing concern among educators, craftspeople and employers that the ability to make something, and the skill set that goes along with that, are atrophying in the consumer age."
Visitors can check out the team's new 3-D printers and laser engraver, or just take a minute to make themselves acquainted with the limitless possibilities of being a maker.
"We want students, staff, faculty and community partners to come see our makerspace," said Trevor Passage, a faculty librarian at the college. "People can expect to see some of our new gadgets and gizmos in action and even make something for themselves."
Hancock was one of 24 colleges in the state to receive a CCC Maker Implementation Grant last summer. The college received a $350,000 grant to build an inclusive Makerspace community in collaboration with the Santa Maria Public Library and the Santa Maria Discovery Museum.
For more information, email Kopecky at susannah.kopecky@hancockcollege.edu or Passage at trevor.passage@hancockcollege.edu.
- AHC -