Twenty-Five Cadets Graduate From Hancock's Fire Academy
Twenty-Five Cadets Graduate From Hancock's Fire Academy
Live demonstrations were held prior to the graduation ceremony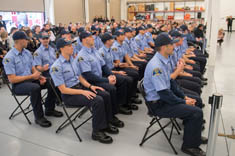 DECEMBER 7, 2018--After more than 620 hours of classroom and field instruction, 25 cadets received their certificates of accomplishment from Allan Hancock College's Fire Academy on Friday. Battalion #142 participated in a ceremony at the college's $38 million Public Safety Training Complex in Lompoc that was as extraordinary as the facility where they trained. The academy, which is certified by the California State Fire Marshal, meets all requirements for graduates to become entry-level firefighters.
"The academy is the heart of our community college – training brave men and women to enter careers in the public sector," said Hancock Superintendent/President Kevin G. Walthers, Ph.D.
"To our community, if something were to happen to your family, know that if the firefighter or police officer who responds came from Allan Hancock College, they will know how to take care of you and your family."
Prior to the ceremony, recruits amazed their friends and family with live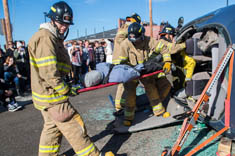 demonstrations inside and outside of the complex's six-story burn tower. Graduates put skills they learned in the academy to use, including running fire hoses, dousing cars and apartment fires, extrication, climbing ladders to gain roof access, and more.
Steve Lieberman, Five Cities Fire Authority police chief, delivered the keynote address.
"Trust your training, trust your instincts, and pay attention to your captain," Chief Lieberman told the Battalion #142 cadets.
The 25 cadets included one woman. Twenty-three of the cadets are fire service candidates, while two have been hired by the Morro Bay Fire Department, and one by the San Luis Obispo City Fire Department.
- AHC -