Hancock Invites the Public to Reflect and Participate in the Global Art Project Before I Die at the Ann Foxworthy Gallery
Hancock Invites the Public to Reflect and Participate in the Global Art Project Before I Die at the Ann Foxworthy Gallery
The installation will be on display Jan. 14-Feb. 8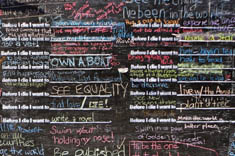 DECEMBER 13, 2018--What started as a small experimental project on an abandoned New Orleans house with artist Candy Chang, has grown into a global movement spreading across 71 countries on more than 4,000 walls, encompassing 35 different languages. In January, the artistic movement will make its way to Allan Hancock College's Ann Foxworthy Gallery.
Chang's installation Before I Die will run in the Ann Foxworthy Gallery Jan. 14 through Feb. 8. The exhibit serves as an art project that invites individuals of all ages to reflect on the things they want to do and accomplish before they die, and then add their thoughts to the gallery walls.
"This project is about bringing communities together and allowing us to find our common ground," said gallery director Laura-Susan Thomas. "In an age where everything changes so quickly, 24-hour news cycles and a social climate that sometimes divides us rather than bringing us together, this interactive piece allows us to look at the big picture and think about what is truly important or what we want to have done in our lifetime, whether it be a big or small act."
A key part of the project's mission is to remove the stigma of discussing death and help inject conversations about mortality into a visual landscape that is preoccupied with instant gratification, youth and distraction. According to the project's website, "when we become comfortable talking honestly and directly about death, we can help change the culture around it, from one that is full of death denial, to one where we confront mortality in a way that compassionately prepares us as individuals and as a community."
"This installation is truly a living, breathing project, and the success of it is dependent on the individuals who participate," said Thomas. "We hope both our Hancock community and members of all ages from our Santa Maria and Central Coast communities come play and see other's responses - perhaps speak with someone new and leave the gallery feeling more connected on a deeper level."
During the exhibition run, the gallery will host two official art events. Community Art Night will take place on Thursday, Jan. 17 from 5-7 p.m. and Community Art Afternoon will take place the following Thursday, Jan. 24 from 3-5 p.m. Attendees will learn about the artist, Candy Chang, view images of other walls around the world, and read what others have written.
For more information on this exhibit or the Ann Foxworthy Art Gallery, contact gallery director Laura-Susan Thomas at laura.thomas@hancockcollege.edu or call 1-805-922-6966 ext. 3465.
- AHC -
Caption:From Jan. 14-Feb. 8,Allan Hancock College will host Before I Die, a global art movement where participants can express things they would like to accomplish before they die on the walls of the gallery.