Hancock Youth Dancers Bring The Nutcracker to the Community
Hancock Youth Dancers Bring The Nutcracker to the Community
The show runs Dec. 21-22 at the Ethel Pope Auditorium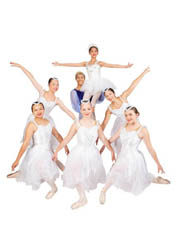 DECEMBER 11, 2018--A holiday staple for nearly three decades, the Allan Hancock College youth dancers are getting ready to once again present The Nutcracker ballet on Dec. 21 and 22 at Santa Maria High School's Ethel Pope Auditorium.
"We want the audience to take home a sense of community from this production," said Courtney Grimnes, director of Hancock's youth dance program. "Our Nutcracker performers come from Lompoc, Orcutt, Santa Maria and Arroyo Grande. As neighbors, friends and family, it's a chance to support children's art in a way that will bring the Christmas spirit into every home this season."
More than 50 performers of all ages will be taking part, including four graduating high school seniors as the lead performers: Madison Grimnes and Madison Correa from Righetti High School playing the parts of Clara and Sugar Plum Fairy and Ian Perea and Sarah Yamaichi from St. Joseph playing the parts of Snow King and Mechanical Doll.
"This year's performance will be special," said Grimnes. "We have some new and exciting surprises and interactions with the audience that we think they are going to love!"
College for Kids dance classes are offered through the college's Community Education program. Many of the students who perform in The Nutcracker often dance year after year, moving through different roles and scenes, culminating with their last performance during their senior year in high school.
"By working together we have created something beautiful and family oriented that our local areas can be proud of," said Grimnes.
Performance dates and times are Friday, Dec. 21, at 7 p.m. and Saturday, Dec. 22, at 2 p.m. Tickets are available for purchase at Allan Hancock College Community Education (bldg. S) or at the door for $15 adults/$10 children.
Spring 2018 College for Kids dance classes begin the week of Jan. 22. The complete list of spring classes is available online through Class Search at www.hancockcollege.edu. Registration for spring classes is under way. Students may register in person at Community Education (bldg. S) on the Santa Maria campus. For more information, call 1-805-922-6966 ext. 3209.
- AHC -
Caption: Allan Hancock College's Youth Dance Program will present The Nutcracker ballet on Dec. 21 and 22 at SMHS's Ethel Pope Auditorium. Photo credit: Arrow Camera.