Lee-Volker Cox Elected to Replace Valerie Moya Boice as President of the Allan Hancock College Foundation Board of Directors
Lee-Volker Cox Elected to Replace Valerie Moya Boice as President of the Allan Hancock College Foundation Board of Directors
Cox joined the foundation board in 2016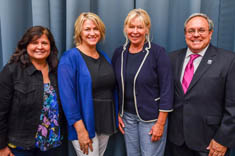 AUGUST 9, 2018--The Allan Hancock College Foundation Board of Directors has named Lee-Volker Cox, a retired colonel of the United States Air Force and community advocate, its new board president. He replaces Valerie Moya Boice, who completed a 30-month term as board president.
"Valerie was president at a critical time for the foundation and the college. Under her leadership, we launched several very successful programs that will provide additional support to thousands of students for years to come," said Hancock Superintendent/President Kevin G. Walthers, Ph.D. "Lee-Volker brings an extensive leadership and business background that will increase the college's impact on the community."
Cox joined the Allan Hancock College Foundation Board in 2016, with a goal of expanding the college's positive impact on the region and ensuring students have an exceptional college to set them on a path to success. He has been an active foundation board member ever since to prepare him for this new position.
"What I love about the Allan Hancock College Foundation Board is that everything we do is student-centered," said Cox. "It's an honor to lead a group of dedicated people who are volunteering their time and expertise to open doors so that our students can fulfill the college slogan of 'Start here. Go anywhere.'"
A retired U.S. Air Force colonel, Cox flew Global Positioning System satellites, served on the launch team for NASA's satellite that validated Einstein's theory of relativity and commanded a multinational team at Thule Air Base in Greenland. Cox earned his doctorate in organizational leadership from Brandman University. An adjunct professor at the University of La Verne, Cox has served on the boards of several community organizations over the years, including the Santa Barbara County Air Pollution Control District Hearing Board and the school board of St. Mary of the Assumption School.
Last December, the foundation launched a $10 million endowment campaign to fund The Hancock Promise. Funded entirely through donations, The Hancock Promise provides local high school graduates with free tuition and fees their first year at Hancock. The college has already secured more than $3 million in gifts and commitments. Cox says one of the foundation's top priority in the next two years is building additional community support for the endowment.
"The endowment campaign is off to a great start. I am committed to continuing the momentum because generations of students deserve the opportunity to receive their first year free at one of the best community colleges in the nation," said Cox.
During her 30-month term as president, which ran from January 2016 through July 2018, Moya Boice ensured the foundation took an active role in helping students' dreams take flight. The foundation's Community Ambassador program, now entering its second year, was Moya Boice's idea. The program, designed to help community leaders and business executives take a more active role in the college and promotion of its programs and services, graduated 27 people in its inaugural class last month. Class No. 2 begins later this month and features 20 community ambassadors.
Moya Boice was instrumental in the foundation's strong support of The Hancock Promise. The foundation hosted its 40th Anniversary Gala last October and raised $150,000 in support of The Hancock Promise.
She pushed to reinvigorate President's Circle membership. Financial support from the President's Circle promotes student success by funding unique opportunities and programs at the college, such as Food Share Because We Care and a pilot program to assist current and former foster youth.
"I am extremely proud of what the college, the foundation and the foundation board accomplished over the last few years," said Moya Boice, vice president of Pacific Premier Bank. "I am confident the work we have done will ensure the continued success of our students and community for generations to come."
Since 2013, the Allan Hancock College Foundation has awarded 1,948 students a total of $2,868,000 in scholarships. The 2018 scholarship period marked the fifth straight year the foundation awarded 400 or more scholarships totaling around $500,000.
In addition to installing a new board president, the foundation board also welcomed Cynthia Schur and Debra Hood to the board of directors. Schur, the president and publisher of Lee Central Coast Newspapers, has been involved in the newspaper industry for 30 years. Over the years, she has been appointed to local and statewide boards including the California News Publishers Association, Marian Hospital Foundation Board and the Santa Maria Valley Chamber of Commerce Board.
Hood, the North County Liaison for the Santa Barbara County Superintendent of Schools, has worked for the Santa Barbara County Education Office for 11 years. Hood serves on the board of the Santa Maria Arts Council and sits on committees for numerous organizations including the Women's Fund of Northern Santa Barbara County, Scholarship Foundation of Santa Barbara's North County and Orcutt Children's Arts Foundation. Hood is also a proud member of the inaugural class of the foundation's Community Ambassador program.
The Allan Hancock Foundation Board of Directors includes nearly 30 community members from the Santa Maria, Lompoc and Santa Ynez valleys. Since its inception in April 1977, the foundation has awarded nearly $8 million in scholarships to Hancock students made possible by overwhelming support from the community.
For more information about the foundation, please call 1-805-925-2004 or visit hancockcollege.edu/foundation.
- AHC -
Caption: The Allan Hancock College Foundation Board of Directors welcomed two new board members and installed a new board president this summer. Pictured above left to right: Valerie Moya Boice, outgoing board president; Debra Hood, new foundation board member; Cynthia Schur, new foundation board member; Lee-Volker Cox, new board president.