Allan Hancock College Continues Faculty Hiring Trend With 10 New Full-Time Faculty
Allan Hancock College Continues Faculty Hiring Trend With 10 New Full-Time Faculty
Several of the new hires will replace long-time faculty retirees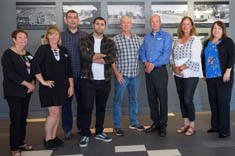 AUGUST 27, 2018--Allan Hancock College welcomed 10 new full-time faculty members to campus this fall. The new faculty will be teaching in STEM areas, transfer English and career education programs.
"I can't wait to communicate to the students at Hancock how wonderful physics is!" said Brian Youngblood, a new full-time physics instructor who most recently lectured at UCSB. "It's an exciting opportunity."
The total number of faculty members has increased by 23 since the great recession, bringing the total faculty count to 161. Including retiree replacements, the college has brought on 60 new faculty members in the past five years.
According to Hancock Superintendent/President Kevin G. Walthers, Ph.D., the college's investment in faculty has had a ripple effect. "The state Board of Governors has set a goal to increase faculty diversity and you can see that happening here at Hancock. Our intentional outreach effort is paying dividends in recruiting talented, new faculty members to the Central Coast."
Walthers also added that with the addition of more counseling faculty in recent years, the college has been able to increase its counselor-to-student ratio.
"Our counselors are key to students successfully completing a credential. We have moved from 977 students per counselor to 557. That's a 43 percent improvement and places Hancock better than the state average. This is how we change the odds for our students."
To help welcome and acclimate the new faculty, they took part in a two-day faculty orientation the week before fall classes began, where they were given a campus tour and instructed in Hancock policies, procedures and goals.
"We've thrown a lot of important information at them, but we'd really like to help our new faculty have a good idea of where the levers are at the college," said Bob Curry, Ph.D., vice president of Academic Affairs at Hancock. "The orientation also helps them build relationships across campus."
Many of the new hires will be replacing long-time faculty who recently retired.
"The new instructors have some very big shoes to fill, that's for sure," said Curry. "But it's always great to see new faces and new energy on campus and continue to offer our students a high-quality education."
"I was finishing my Ph.D. in English at the University of Texas at Austin before I started my job here at Hancock," said Alejandro Omidsalar, who was recently hired as an English instructor. "Aside from the beautiful weather out here in the Central Coast, I was very interested in finding a teaching position at a California community college, because I began my own higher education at a community college. My goal is to be a role model for my students in and out of the classroom."
In addition to bringing new faces from out of state, hiring from the pool of part-time faculty has also continued to be part of the faculty hiring trend at the college. Nearly half of the faculty hired over the last five years started as part-time faculty.
"I was a student at Hancock and I've worked here for more than 10 years as a part-time instructor. So Hancock has been a big part of my life," said Wendy Hadley, who was recently hired as a full-time biology professor. "I'm so grateful and excited to be full-time. As you can tell, I love this place! Hancock's motto is 'Start here. Go anywhere.' But for me, it's been 'Start Here, go anywhere, come back here and then stay!"
Below is a list of the 10 new full-time faculty at Hancock:
Kathy Beckelhymer – Noncredit Basic Skills
Bethany Conner – Licensed Vocational Nursing
Katherine Garcia – Noncredit Vocational Education
Wendy Hadley – Biology
Richard Jacoby – Photography
Ron Lovell – Culinary Arts
Megan McComas – Registered Nursing
Alejandro Omidsalar – English
Susan Roehl – Emergency Medical Services
Brian Youngblood – Physics

- AHC -
Caption: Allan Hancock College welcomed 10 new full-time faculty who started in their positions at the beginning of the fall semester. (Eight pictured).