Hancock's College Achievement Now (CAN) Director to Receive Latino Legacy Award
Hancock's College Achievement Now (CAN) Director to Receive Latino Legacy Award
Petra Gomez will be honored at a ceremony on Sunday, Apr. 15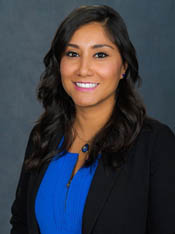 APRIL 9, 2018--College Achievement Now (CAN-TRIO) project director Petra Gomez has been selected to receive the Latino Legacy Award for education. Community leaders nominated Gomez for her work as the director of Allan Hancock College's CAN-TRIO program and serving as a community advocate.

Gomez is a Guadalupe native and graduated from Hancock. She transferred to University of California, Santa Barbara, where she earned a bachelor's degree in sociology and a minor in education and applied psychology. Later, she received a master's in administration and leadership from Cal Poly, San Luis Obispo.
"I am thrilled!" said Gomez, who has served as CAN project director at Hancock since August 2014. "I'm excited to use this as a platform to encourage others to pursue their goals with passion by being servant-leaders."
CAN provides a variety of services to students who are first-generation, economically disadvantaged, and students with disabilities who demonstrate academic need. As director, Gomez coordinates efforts to increase retention rates at Allan Hancock College, as well as transfer rates to four-year, higher learning institutions.
Under Gomez's leadership, 92 percent of CAN scholars continue from year one of studies to year two at Hancock. Forty percent graduate with an associate degree and certificate within four years. Seventy-one percent of the scholars receive an associate degree and transfer to a four-year institution within four years at Hancock.
Gomez has no plans to slow down. "I want to keep growing, personally and professionally, and to use my skills to be a positive change-agent in our community," said Gomez.
Gomez believes in being a catalyst for change. She enjoys volunteering and is a member of the Guadalupe Lion's Club, Leadership Santa Maria Valley and the Western Association of Educational Opportunity Personnel.
The Latino Legacy Awards emanated from the Future Leaders of America, a youth-led organization that provides leadership, educational and personal development opportunities to young people and their families.
A group of community leaders came together to organize an annual awards ceremony to recognize the actions of their peers and show gratitude for their service. Hancock student Elizabeth Pompa received a 2017 Latino Legacy Award in the youth category. CAN scholar Cristal Robles will receive the award for youth leadership this year. Hancock Associate Superintendent/Vice President Nohemy Ornelas received the inaugural award for education in 2016.
"It is important to recognize the work that is contributing to changing the odds for the community through education," said Ornelas.
Santa Maria Valley community leaders are recognized for their accomplishments and support of the Latino community in the following areas: athletics, business, community advocate, education, health care, non-profit organization, parent leader, public safety and government, youth leader and lifetime achievement.
Awards will be presented on Sunday, April 15, at the Radisson Hotel in Santa Maria from 11 a.m. to 2 p.m. The celebration includes brunch. Proceeds will benefit Future Leaders of America. For more information, email lla@futureleadersnow.org.
- AHC -
Caption: CAN Director Petra Gomez will receive the Latino Legacy Award for her work in education this Sunday, April 15.