Students Aim High to Reach Educational Goals with AIM Fund awards
Students Aim High to Reach Educational Goals with AIM Fund awards
Sixteen students recently received AIM scholarship awards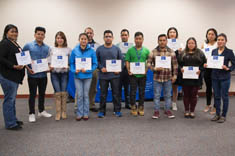 MAY 15, 2018--Anselmo Adrian Perez worked for six years in the fields around the Santa Maria Valley before he started noncredit English as a Second Language (ESL) classes with Allan Hancock College's Community Education. Although the process can take up to four years, he completed the "English sequence," a series of noncredit ESL, remedial and English 101 courses that prepare students for college-level English coursework.
Now, as one of 16 recipients of an Advance Innovate Maintain (AIM) program scholarship, Perez will receive financial assistance for his education for the first time.
"The AIM scholarship is amazing and will allow me to get closer to my goal," said Perez. "The support has made a huge difference in my journey and given support to my children. Without the help of the AIM program, none of this would be possible."
AIM provides financial assistance to students who cannot qualify for FAFSA, the California College Promise Grant, the DREAM Act and other types of financial assistance for out-of-state and nonresident tuition payers. With the AIM fund scholarship, Perez will continue studying communications at Hancock. He is currently enrolled in speech classes and aspires to be motivational speaker.
Adriana Olea Montebello also completed the English sequence and serves as a credit ESL ambassador. She started in noncredit ESL and obtained her GED. Through her dedication and determination, Olea is on her way to achieving an associate degree.
"The AIM scholarship will give me that final push I need to receive my AA in accounting," said Olea. "This is the first financial assistance I have ever received. I want to set an example for my son and show him that hard work is worth it."
The AIM scholarships come from multiple grants, gifts and employee contributions. The donations are put into the AIM fund and distributed to students. An awards banquet ceremony is held once a year each spring.
"AIM is for any student at Hancock, but the primary focus is on progression from noncredit to credit and from below college-level to college-level courses," said Hancock Advancement Specialist Natalie Rucobo.
AIM's Basic Skills Coordinator Mayte Solis said 80 to 90 percent of students move from noncredit to credit classes and that recognizing their accomplishments validates student success.
"For many of our students, they've never had a diploma or certificate," said Solis. "The ceremony was very meaningful for them; they felt like they were part of the college."
The AIM fund is a component of the U.S. Department of Education Title V AIM grant awarded to the college in 2014. The grant focuses on increasing basic skills and English as a Second Language (ESL) student success and advancement.
The AIM Center is a bilingual, virtual resource center available to students 24/7 from any computer. Through the AIM Center, students can also tap into other Hancock support services such as the Writing Center, Math Center, Counseling and more. The college hopes to open a physical AIM Center by the end of the Title V grant.
Contributions to the AIM Fund can also be made directly to the Allan Hancock College Foundation. To learn more, please contact the foundation at 805-925-2004, email ahcfoundation@hancockcollege.org, or visit www.hancockcollege.edu/foundation.
- AHC -