Bulldog Bound Students Experience 3E: Elementary. Exploration. Event.
Bulldog Bound Students Experience 3E: Elementary. Exploration. Event.
Nearly 400 students were in attendance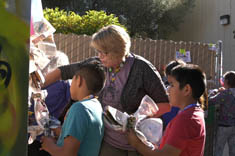 OCTOBER 31, 2017--Three-hundred and seventy-five students. Ten workshops. Two hours. Those figures are no replacement for the excitement felt on Allan Hancock College's Santa Maria campus Friday, October 27. Students from Adam, Miller, Olive Grove Charter and Sanchez schools participated in the
3E: Elementary. Exploration. Event.
as part of Hancock's Bulldog Bound program.
Fifth and sixth grade students went to four of the 10 planned workshops in groups of 40. Each tour highlighted a different program at Hancock and had a hands-on activity component. The future Bulldogs gained valuable insight into various college programs including photography, nutrition, STEM (science, technology, engineering and math), fine arts, recreation management, public safety, theatre arts and the library.
Assistant professor of architecture Saad Sadig showed students how to build simple structures using Google's free 3D modeling software, "SketchUp." Sadig said he hoped the demo would spike the student's interest in architecture.
"It's important to prepare them early to give them an idea of what we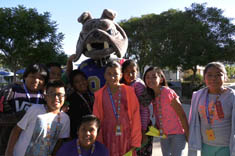 do here; and hopefully, they will be joining us in the future," said Sadig.
Beau Gentry, a geologist for Hancock Promise partner Aera Energy, showed the future Bulldogs how geology relates to oil production in the "Geology Rocks!" workshop. Students learned about various kinds of rocks, minerals and plate tectonics.
"Improving our community is essential to Aera. Partnering with Hancock's Bulldog Bound program will help enrich families by showing students and parents that going to college is a realistic, achievable goal," said Rick Rust, public affairs project manager.
Bulldog Bound, the first phase of the Hancock Promise, focuses on creating a college-going culture among fifth through eighth grade students and their families. The program introduces them to Allan Hancock College campus locations, and the programs and services available through early outreach events. Students and their families will be invited to attend various events on Hancock's campuses and centers in Santa Maria, Lompoc, Vandenberg Air Force Base, and Santa Ynez. The college will host another E3 event later this month at its Lompoc Valley Center.
- AHC -

Caption 1: Students from Sanchez Elementary used recycled materials to create art in the Bulldog Bound Wag & Weave workshop hosted by fine arts faculty member Laura Susan Thomas.

Caption 2: Adam Elementary students pose with Spike after creating paper airplanes in the Maker Mutts workshop.