"Pyrometric" Exhibit by Ceramist Amiko Matsuo Opening in Ann Foxworthy Gallery at Allan Hancock College
"Pyrometric" Exhibit by Ceramist Amiko Matsuo Opening in Ann Foxworthy Gallery at Allan Hancock College
The show runs Oct. 24-Dec. 1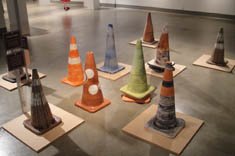 OCTOBER 23, 2017--Ceramist Amiko Matsuo has been exploring ways of making the effects of flame on the landscape and on human culture visible through the symbolism of cones: pinecones, traffic cones, ceramic firing cones, and more recently, she draws with Phos-Chek, the orange fire retardant dropped from planes on wildfires. The artist's experimentation with the elements of fire can be seen in an exhibit entitled "Pyrometric," opening Tuesday, Oct. 24, in the Ann Foxworthy Gallery on Allan Hancock College's Santa Maria campus. The exhibit is on display through Dec. 1.
Matsuo is the new head of the college's 3D/ceramics program – a studio space where knowledge of fire is essential to the transformation of damp, earthen clay into hard-fired pottery. The works in this show trace the story of fire in the environment, from traditional indigenous burning practices to the intense firefights now common where housing has edged into more fire-prone city fringes.
Though destructive, wildfire is also transformative, and Matsuo uses pinecones and traffic cones to represent that dichotomy. Although fire consumes the forest, it also provides heat that forces pinecones open to regenerate it. Traffic cones mark edges between safety and danger, footpaths of humans and animals, and hidden environments revealed after fire lays the landscape bare. A third reference to cones is the one most essential to ceramists: the pyrometric cones that are placed in the kiln during firing to gauge temperature and alert the potter that a necessary degree of heat has been reached.
Gallery director Marti Fast says that Matsuo created clay versions of safety cones, some plain and some glazed with symbols and pattern, which she exposed to high heat and smoke during controlled burns. These are displayed on the gallery floor as artifacts of the transformative process.
Among the interests of Matsuo are sustainable communities and "place-making." She experiments with glazes made from local clay as a way to show how ceramics can contribute to a greater sense of connection, even incorporating chaparral ash as an ingredient. Tying together contemporary ceramic studies and her own Japanese heritage, Matsuo developed an international travel course to rural Japan, where students could work with Japanese artists and help fire a noborigama wood kiln. "Ceramics requires people to work together and to share knowledge and resources," said Matsuo. "It has great potential for community building."
Matsuo's technical expertise covers a wide range of ceramic practices, including the ancient Japanese coil building method called "nejitate," which she learned from a master potter in the ceramic village of Echizen. In addition, she is a translator and scholar of ceramic history, and brings expertise in 3D digital fabrication.
The Ann Foxworthy Gallery is located in the Academic Resource Center, bldg. L-South, on the Santa Maria campus. Admission is free, but campus parking is $2 per vehicle. The gallery is open Monday-Thursday from 9 a.m.-7:45 p.m. and Friday from 9 a.m.-3 p.m.
For information on the exhibit or the ceramics program, contact the fine arts department at 1-805-922-6966 ext. 3252 or ext. 3465, toll-free at 866-342-5242.
- AHC -