Allan Hancock College Singers to Perform With Santa Maria Philharmonic Orchestra
Allan Hancock College Singers to Perform With Santa Maria Philharmonic Orchestra
The concert will be held at the First Baptist Church in Santa Maria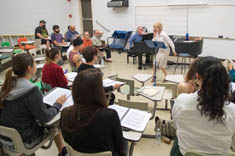 NOVEMBER 22, 2017--The cheerful sounds of the holiday season are already in the air. There is something about music of the Baroque era that lends itself to the holidays as well, and on Saturday Dec. 2, the Allan Hancock College Singers will join the Santa Maria Philharmonic Orchestra for "Rejoice!" a concert that takes early advantage of both style and season.
The choir's director, Ann Lucas, D.M.A., and the orchestra's music director, Michael Nowak, collaborated on a program that includes orchestral works and great choral music—some of them perennial favorites and some of them possibly new to many listeners.
The concert opens with J. S. Bach's graceful "Orchestral Suite No. 1," a festive work comprised of seven movements based on dances prominent in the 18th century. Joining the orchestra in another masterpiece by Bach will be the college singers, performing two choruses from Cantata No. 140 "Sleepers Wake."
Choral works also feature in the rest of the program. The first will be the "Magnificat" by Italian composer Giovanni Pergolesi, a composer immensely popular in his day. The text taken from the story of the Annunciation of the birth of Jesus Christ was set to music by composers from the medieval period onward, and this particular piece is one of the most frequently performed versions.
And, it would not be December without some music from Handel's immortal oratorio "Messiah;" the singers and orchestra will offer five well-loved choruses from Part I, the traditional Christmas portion, and include with the mighty "Hallelujah."
The concert will take place at the First Baptist Church in Santa Maria on Saturday, Dec. 2, at 7:30 p.m. Lucas will offer a free pre-concert lecture beginning at 6:50 p.m. Tickets may be obtained at the door, by contacting the Philharmonic at 805-925-0412, or by visiting www.santamariaphilharmonic.org.
- AHC -
Caption: Dr. Ann Lucas directs the Allan Hancock College Singers during rehearsal for their fall concert. The choir will perform with the Santa Maria Philharmonic Orchestra on Saturday, Dec. 2, at the First Baptist Church in Santa Maria.