Registration Under Way for Hancock Baseball's Winter Youth Camp
Registration Under Way for Hancock Baseball's Winter Youth Camp
The clinic will be held Dec. 21-23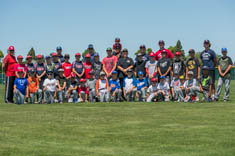 NOVEMBER 20, 2017--An annual winter break tradition will return to the diamond at Allan Hancock College in December. The Hancock baseball program will host a three-day winter youth clinic at John Osborne Field on the Santa Maria Campus from Monday, December 21, through Wednesday, Dec. 23, 2017. Children, ages six through 13, are invited to sharpen their hitting, fielding and pitching skills at the camp that will run from 11 a.m. to 2 p.m.
The cost to attend a clinic is $100 per child, and $75 for each additional family member. Registration is under way. Parents and guardians can pay in person on the first day of camp, or register online at athletics.hancockcollege.edu.
Instructors include the Allan Hancock College coaching staff and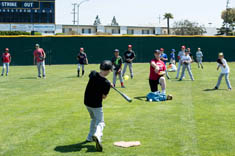 players, as well as former Major League pitcher Bryn Smith and Jim Allen, the former Lompoc High head coach and current Hancock assistant coach. Santa Maria Valley Packers head coach and former Righetti head coach Scott Nickason, and Rogers State University assistant coach Skyler Ellis will also provide instruction to campers.
All camp participants will receive a free t-shirt. For more information, call Hancock baseball head coach Chris Stevens at 1-805-922-6966, extension 3456.
The baseball program will also host youth clinics during the summer in 2018.
- AHC -
Caption: Registration is underway for Allan Hancock College's winter youth baseball camp that runs Dec. 21-13. Parents can register in person on the first day of the camp or online at athletics.hancockcollege.edu.