Conference Champion Hancock Football to Host Southwestern in American Championship Bowl Nov. 18
Conference Champion Hancock Football to Host Southwestern in American Championship Bowl Nov. 18
Kickoff will be at 4 p.m. at Santa Maria High School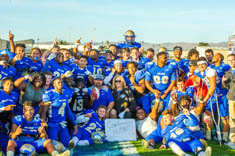 NOVEMBER 15, 2017--After securing its first outright conference championship in 20 years, the Allan Hancock College football team earned an opportunity to host a bowl game. The Bulldogs will host Southwestern in the Southern California Football Association's American Championship Bowl on Saturday, Nov. 18. Kickoff will be at 4 p.m. at the football field at Santa Maria High School. It will mark the first meeting between the Bulldogs and Jaguars.
The Bulldogs finished the regular season 5-0 in American Pacific League action and 8-2 overall. Hancock earned its first postseason appearance since 2011 when the Bulldogs crushed L.A. Harbor 56-11 in the Western State Bowl. Hancock has played in 16 previous bowl games and posted a record of 4-12, including a 1-6 mark under head coach Kris Dutra.
Southwestern knocked off San Diego Mesa 19-14 on Saturday to win the American Mountain League championship. The Jaguars finished 5-0 in league and 8-2 overall, one game ahead of Mesa in the league standings.
The bowl selection committee used the SCFA Power Ranking Index (PRI) to determine which teams play in bowl games. The index factors in a team's winning percentage, opponents' winning percentages, opponents' opponents' winning percentages, and regional rankings. Hancock finished atop the SCFA American Division PRI, followed by Southwestern, San Diego Mesa and Santa Ana. Santa Ana and San Diego Mesa will face off in the Southern California Bowl. Only four American Division teams in the SCFA received bowl game invitations.
Tickets will cost $12 for general admission. Tickets are $8 for Hancock faculty, staff and students; seniors (people over the age of 60); and children under the age of 12.
For more information, please visit athletics.hancockcollege.edu.
- AHC -