New Summer College for Kids Combine Learning With Fun
New Summer College for Kids Combine Learning With Fun
Classes begin June 12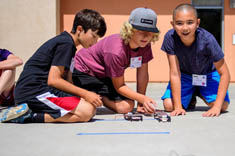 MAY 8, 2017--College for Kids at Allan Hancock College is cooking up some fun ways to learn science and math and develop useful skills with a variety of fun new classes offered this summer.
"This will be a great summer for kids who enroll in our College for Kids classes!" said Elaine Healy, coordinator of community education at Allan Hancock College. "We have five new classes that will provide both excellent learning opportunities and memorable experiences."
Students will not only learn basic cooking and kitchen skills, but will also learn the role that science plays in food. With the new Science of Ice Cream class, students will make their own butter and ice cream while learning basic chemistry, physics and agricultural science. Students will also learn how to plant a kitchen garden and enjoy nutritious home grown foods through the new Seed to Table Family Cooking class.
To help kids develop their science and math skills over the summer, Hancock is offering two brand new courses, Math Boot Camp and Explorations in Math, Engineering and Computer Science. In Math Boot Camp, students will strengthen weak skill areas in math as well as sharpen existing skills through creative learning methods and drills. In Explorations in Math, Engineering and Computer Science, students will design and build their own catapult, program a computer game, learn the abacus and more.
In addition, the college will continue to provide its popular dance classes including ballet, hip-hop and jazz and provide skills courses in sewing, photography and cooking.
The start dates for College for Kids classes vary from June 12 through August 1 to provide options for families. Classes range from one to six weeks. Classes are for children ages 4 to 17 years of age. Students do not receive grades in College for Kids classes.
The schedule of classes is available online. To view, visit www.hancockcollege.edu, click Class Schedule, then select Summer 2017 and Community Service/Fee-Based.
Registration for College for Kids classes and all other Community Education classes begins Monday, May 15. Parents and guardians can register in person at the Community Education building (building S) at the college's Santa Maria campus. Students are encouraged to register at least two weeks before the class start date to avoid class cancellation. For more information, call 1-805-922-6966 ext. 3209, or see the online schedule of summer Community Education classes at www.hancockcollege.edu. Printed copies of Community Education classes offered this summer will hit mailboxes later this week and be available at all campus locations.
-AHC -
Caption: Children, ages 4 to 17, will be able to learn, stay active and have fun at the same time this summer by taking College for Kids classes at Allan Hancock College. In addition to popular classes like dancing, sewing and cooking, the college is offering new classes like Science of Ice Cream and Math Boot Camp. Registration for summer classes begins May 15.