Register Today for Allan Hancock College Baseball and Girl's Basketball Summer Youth Clinics Offered in June
Register Today for Allan Hancock College Baseball and Girl's Basketball Summer Youth Clinics Offered in June
Registration for all camps can be completed online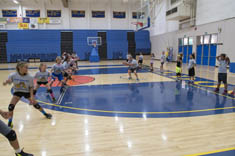 MAY 31, 2017--Parents looking to keep their children active and out of the house this summer have multiple options to consider thanks to the Allan Hancock College athletics department. This month, the baseball program will offer two youth clinics, and the women's basketball team will host a four-day clinic. The clinics are designed for children ages 6 to 13 of all skill levels.
"Hancock is a tremendous place and a source of athletic pride on the Central Coast," said Kim Ensing, Hancock athletic director and associate dean. "We have an extremely talented coaching staff and student-athletes at the college who are excited to pass on their skills and knowledge to area youth. These camps are great opportunities for children to learn or improve in a sport and become familiar with Hancock athletics."
Hancock women's basketball head coach Cary Nerelli, a C.I.F. Hall of Fame inductee with more than 30 years of coaching experience, will hold a girl's basketball summer clinic from Monday, June 19, through Thursday, June 22, inside Joe White Memorial Gymnasium. From 10 a.m. to 12:30 p.m. each day, Hancock coaches and players will help campers learn and improve the essential fundamentals of the game. The $75 registration fee is due the first day of camp, either cash or check made payable to "Allan Hancock College Women's Basketball."
For more information about the girl's basketball camp, email Nerelli at cary.nerelli@hancockcollege.edu, or call 1-805-922-6966 ext. 3941.
Under Nerelli's direction this year, the women's basketball program enjoyed its finest season in 22 years. The Bulldogs went 17-10 and earned the program's first playoff berth in more than 10 years.
The Hancock baseball team program will help area children sharpen their hitting, fielding and pitching skills this summer with two clinics. The first will run from Monday, June 19, through Thursday, June 22. The second will take place June 26-29. Instruction will take place from 11 a.m. to 2 p.m. each day. Instructors include the Hancock coaching staff and players, as well as former Major League pitcher Bryn Smith and long-time area coaches Jim Allen and Scott Nickason. All campers will receive a free t-shirt.
The cost to attend one clinic is $125 per child, and $75 for each additional family member. Children can attend both clinics for $200. Payment is due on the first day of camp. Please call 1-805-922-6966 ext. 3227 for more information about the baseball camps.
Registration for all camps can be completed online at athletics.hancockcollege.edu. A list of the camps is featured under Youth Camps located near the top right of the home page. Registration and payment may also be completed on the first day of each camp.
- AHC -
Caption: The Allan Hancock College women's basketball program will host a summer youth clinic for girls ages 6 to 13 from June 19-22. The baseball program will also put on clinics June 19-22, and June 26-29. For more information, visit athletics.hancockcollege.edu and search under Youth Camps.