Apply Today For Hancock's Dental Assisting Program For Fall Semester
Apply Today For Hancock's Dental Assisting Program For Fall Semester
Two-semester program begins in August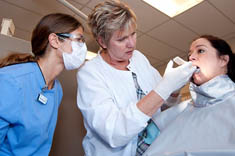 MAY 2, 2017--There is still time to apply to be a part of the next dental assisting class at Allan Hancock College. Applications for the two-semester program that starts this August are due by Wednesday, May 31, 2017.
Approved by the California Board of Dental Examiners, the two-semester program prepares students for employment in a dental office. Students who complete the curriculum will receive a certificate of completion and associate in science degree in dental assisting. They will also be eligible to take the State Board exam, which is required to become a registered dental assistant.
There is and will continue to be a high demand for dental assistants in California. According to the Bureau of Labor Statistics, there will be a 16 percent increase in demand for dental assistants through 2022. The median hourly wage in 2016 for dental assistants in California was $18.82 and the median annual income was $39,150, according to the U.S. Department of Labor.
To be eligible for the program, an applicant must be at least 18 years of age and have completed ENGLISH 101 with a "C" grade or better, show completion of an equivalent course, or be in the process of taking the class. Students must complete the application, which requires a printout of their unofficial transcripts from Allan Hancock College, official transcripts from previous colleges, as well as copies of their high school transcript or GED certificates.
The application is available online through the college website, www.hancockcollege.edu; click Programs of Study, then click Dental Assisting, and then select Download Application Form. Students can also pick up an application in person at the Health Science office (building M, room 132) on the Santa Maria campus, or email tawnya.karstrom@hancockcollege.edu to request an electronic application.
Applicants may deliver their packets to the Health Sciences office (M-132) on the Santa Maria campus or mail it to 800 S College Drive, Santa Maria, CA 93454. Please write "Attention: Health Sciences department" on the envelope.
All students will be notified by email regarding their application and admission status. A total of 26 students are accepted into the program every year. Fall semester courses total 16.5 units and spring semester courses total 15.5 units and include a 240-hour internship in dental offices.
For more information, call the Health Sciences office at 1-805-922-6966 ext. 3384 or email tawnya.karstrom@hancockcollege.edu.
- AHC -
Caption: The application deadline to join Allan Hancock College's dental assisting program in fall 2017 is May 31, 2017. The two-semester program provides technical skills required for employment in a dental office. Applications are available online through the college's website www.hancockcollege.edu, then click Programs of Study and Dental Assisting.