Detroit Lions Sign Former Hancock Player Josh Thornton
Detroit Lions Sign Former Hancock Player Josh Thornton
The cornerback will attend the Lions' rookie camp next month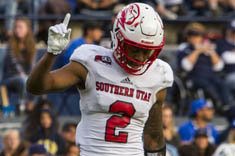 MAY 1, 2017--Former Allan Hancock College football player Josh Thornton signed a free-agent contract with the Detroit Lions after the 2017 NFL Draft concluded Saturday evening. It marks the second time in the last three years that a former Hancock football player signed with a NFL team. The Carolina Panthers signed former All-American Cameron Artis-Payne after selecting him in the fifth round of the 2015 NFL Draft.
The 5-foot-11-inch Thornton signed as an undrafted free agent out of Southern Utah University. The cornerback finished the 2016 season with three interceptions and eight pass breakups. He recorded 38 total tackles, including 27 solo stops and was named to the All-Big Sky Conference Second Team. Thornton had two interceptions and 32 total tackles as a junior for the Thunderbirds, who won the program's first Big Sky Conference championship that season.
Thornton transferred to Southern Utah after playing two seasons at Hancock. In 2013, he broke up five passes, made 15 tackles and had one interception in six games for the Bulldogs. He tallied 15 tackles his freshman season at Hancock.
Thornton will report to the Lions' rookie minicamp next month looking to work his way to a spot on Detroit's roster and in the NFL. Last year, three undrafted free agents saw time on the Lions' active roster during the season.

- AHC -