Twenty-nine Cadets Graduate from Hancock's Fire Academy
Twenty-nine Cadets Graduate from Hancock's Fire Academy
Nearly half of the graduates already have jobs secured with Central Coast fire departments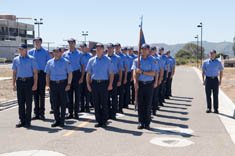 MAY 19, 2017--After more than 620 hours of classroom and field instruction, 29 cadets received their certificates of accomplishment from Allan Hancock College's Fire Academy on Friday. Battalion 139 participated in a ceremony at the college's $38 million Public Safety Training Complex in Lompoc that was as extraordinary as the facility where they trained. The academy, which is certified by the California State Fire Marshal, meets all requirements for graduates to become entry-level firefighters.
Teyler Sorenson, academy class president, spoke during the ceremony on behalf of the 139th graduating class of the academy. He thanked their families and friends, the instructors and Academy Coordinator Andy Densmore for their support over the last five months. Sorenson also credited the friendships and unity the class developed for the battalion's success.
"These past weeks have been insane and a blast and one heck of an adventure, but the adventure has just begun," said Sorenson. "Allan Hancock College Fire Academy and Chief Densmore have put us up on a strong podium. But it is now our job to shine from that podium."
Mark Smith, assistant fire chief of the Vandenberg Fire Department, delivered the keynote address. Smith encouraged the students, which included his son, Shannon, to be willing to take action and facilitate change, and not to let negativity take their focus off their goals.
"Always be willing to learn, recognize your weaknesses and figure out how to turn them into strengths," said Smith. "Never be concerned about challenges because overcoming them is what makes life meaningful."
Fourteen cadets have already secured jobs with fire departments along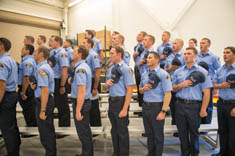 the Central Coast. The Santa Barbara City and Santa Barbara County fire departments have hired three cadets apiece. Two graduates will start with the San Luis Obispo County Fire Department, while two more will join Cal Fire - San Luis Obispo County. Graduates have also accepted positions with the Painted Caves, Morro Bay, Vandenberg and Lompoc fire departments. Many of the remaining cadets are in the process of applying and interviewing with other departments across the state.
The Allan Hancock College Foundation awarded several scholarships to students after their graduation. Many of the scholarships were started in memory of former fire service members. For example, the Art Mendez Fire Academy Scholarship was started to support and encourage a veteran of the United States military to start a career in the fire service.
Built on 68 acres, the Public Safety Training Complex is a premier training facility for the college's fire, law enforcement, emergency medical services and environmental health and safety programs. The complex includes a high-speed track, skid pad, oil and gas industry props, pistol and rifle range, burn building, six-story burn tower, confined space and trench props, and several other state-of-the-art features.
For more information on the college's public safety training programs, call (805) 735-3366 or visit www.hancockcollege.edu/pstc.
- AHC -
Caption 1: Twenty-nine cadets graduated Friday from Allan Hancock College's Fire Academy. Nearly half of the graduates already have jobs secured with Central Coast fire departments.
Caption 2: Members of Battalion 139 recite the Code of Ethics at the conclusion of Allan Hancock College's Fire Academy graduation.