Hancock Honors 21 Retiring Faculty and Staff
Hancock Honors 21 Retiring Faculty and Staff
The retirees contributed 468 years of service to the college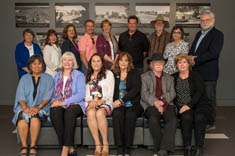 MAY 17, 2017--After teaching thousands of students about the nuances and magic of chemistry during his 36-year career as a professor at Allan Hancock College, Donald Philbin, known better as D.K., had a difficult time saying goodbye at the end of his final Chemistry 150 lecture.
"I had planned to give a short farewell to the class, telling them how much I enjoyed having them this semester and how much I will miss working with them. I found myself unable to finish," said Philbin. "The reality of finishing my teaching career caused me to be at a loss for words and I was barely able to say goodbye. The class was wonderful. They gave me a standing ovation, which is the best farewell I could have hoped for."
A fixture at Allan Hancock College for 36 years, Philbin jokes he now teaches the children of some of his first students. While the faces have changed, Philbin's devotion to serving the students and his level of integrity have not wavered.
"As a teacher you have the ability to really have a positive impact on the students you serve," said Philbin. "It is such a joy to see your former students succeed. I remember an email I received last year that began, 'Dear Professor Philbin, I hated your chemistry class!' But he went on to express his appreciation because he was so well prepared for his work at the university. That is why I teach."
Judith Dal Porto's ties to Hancock date back nearly four decades. She attended the college as a student, only to land her dream job in 1980 with the college's early childhood studies program.
"I always felt blessed to be a part of a program that has been innovative, relevant and progressive in the field of child development and with outstanding collaboration," said Dal Porto. "I will miss the laughter and inspiration of children, the quest for knowledge in my early childhood studies students, and the support and camaraderie of my colleagues."
Philbin and Dal Porto were two of the 21 Hancock faculty and staff honored during a college-wide retirement and recognition event on the Santa Maria campus Wednesday.
The 21 retirees contributed 468 years of service to the college. The retirees include: Sandra Bierdzinksi, associate professor/librarian, 10 years; Anne Cremarosa, entrepreneurship instructor, 9 years; Judith Dal Porto, preschool teacher, applied social sciences, 37 years; Janet Ford, assistant director, information technology services, 31 years; Michael Guista, professor, English, 21 years; Barbara Irwin, disability services and programs for students specialist, 11 years; Kathleen McGarry, coordinator, Academic Affairs, 20 years; Nancy Meddings, academic dean, 16 years; Alan Myjak, telecommunications technician, 42 years; Bob Nichols, instructor, fine arts, 28 years; D.K. Philbin, professor, chemistry, 36 years; Cordelia Rackley, public information specialist, community education, 20 years; Kevin Raine, operations supervisor, 27 years; Susan Reardon, coordinator/instructor, medical assisting, 13 years; Geraldine Royce, certified nursing assistant and certified home health aid instructor, 17 years; Paul Spire, maintenance carpenter, 20 years; Suzanne Valery, director, institutional grants, 12 years; Robert Weir, coordinator/instructor, culinary arts, 11 years; Deborah West, professor, art, 27 years; Irene Wong, professor, mathematics, 41 years; Pam Wood, admissions and records technician, 19 years.
Upon retirement, Philbin plans to travel to Denmark, Nepal and Vietnam. He is also looking forward to singing tenor for some choirs, volunteering and returning to Hancock as a student to take automotive and welding classes. Dal Porto plans to spend more time with her family, volunteer and travel. She already has trips planned to Graceland, Nashville and Abraham Lincoln's home.
Also honored at the reception were seven faculty members who achieved tenure during the 2016-17 academic year: Tyson Aye, Gabriel Marquez, Chris Pavone, Magdalena Ramos, Anita Rolon, Richard Seidenberg and Julie Vasques.
The Admissions and Records office was named the college's department of the year. During the last year, the Admissions and Records staff processed nearly 4,000 applications for degrees and certificates, evaluated nearly 2,300 college and high school transcripts, and processed nearly 7,000 transcripts. Staff also led numerous major projects such as class placement through multiple measures, the expansion of concurrent enrollment and use of a new statewide online application system.
"It is truly an honor to be recognized by the Hancock community," said Marian Quaid-Maltagliati, director of Admissions and Records. "The Admissions and Records staff works hard every single day, and no matter what the challenge is they rise to the challenge."
- AHC -
Allan Hancock College honored its 21 retiring faculty and staff during an end-of-the-year event Wednesday. The 21 retirees dedicated a combined 468 years of service to the college. Pictured: top row, l to r: Suzanne Valery, Cordelia Rackley, Barbara Irwin, Alan Myjak, Janet Ford, Kevin Raine, DK Philbin, Sandra Bierdzinksi, Bob Nichols. Bottom row, l to r: Geraldine Royce, Susan Reardon, Judith Dal Porto, Kathleen McGarry, Robert Weir, Deborah West. Not pictured: Anne Cremarosa, Michael Guista, Nancy Meddings, Paul Spire, Irene Wong, Pam Wood.