Five Hancock Students Qualify For SkillsUSA National Championships
Five Hancock Students Qualify For SkillsUSA National Championships
SkillsUSA is a national organization for students in trade, industrial, technical and health occupations education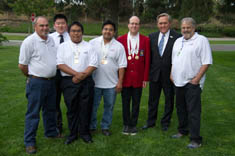 MAY 11, 2017--For the second year in a row, Allan Hancock College will be represented at SkillsUSA National Championships. Five Hancock students – Wyatt Allen, Charliemar Collado, Spencer Copeland, Daniel Denham and Sebastian Ramirez - will compete for national titles in Louisville, Kentucky from June 21-23.
"I don't get to travel outside of California much, so I'm really excited to go to nationals, represent the college and show what I can do," said Deham, who will compete in the computer programming category. "I am going to keep studying the latest trends and technology and prepare the best that I can."
Deham qualified for nationals by earning two gold medals during the 50th annual SkillsUSA State Conference in San Diego last month. He took first place in the computer programming and job interview categories. The medals served as confirmation for Deham, who will earn an associate degree from Hancock this spring in electronics technology.
"I am 38 years old and returned to college to improve my skills. Winning at state showed me it's never too late to reach your goals," said Deham, who has a bachelor's degree in computer science from Cal Poly, San Luis Obispo. "I read about the SkillsUSA class in the college catalog and I decided to try it out and it turned out to be better than I could have imagined."
Deham was one of 12 Hancock students who competed at the state competition. They won a combined 14 medals. They received seven gold medals as the state's best in the categories of automated manufacturing, technical drafting, computer programming, prepared speech and job interviews. They won four silver medals in welding fabrication and shielded metal arc welding. Hancock also took home three bronze medals in welding fabrication.
"SkillsUSA teaches you technical and hands-on skills. It also teaches you soft skills for the real world like public speaking and how to interview," said Ramirez, who won gold medals at state in the automated manufacturing technology and job interview categories. "SkillsUSA has helped me grow academically, professionally and personally."
SkillsUSA is a national organization for students in trade, industrial, technical and health occupations education. The organization holds competitions annually to recognize the achievements of career and technical education students and to encourage them to strive for excellence. The state competition featured more than 3,500 participants from high schools and colleges throughout the state who competed in more than 50 occupational skills contests.
According to Patrick McGuire, an automotive technology instructor and department chair at Hancock, students who compete at SkillsUSA not only improve their technical skills, but also become more valuable for employers. More than 80 percent of the competition involves presentation, communication and leadership.
"Our students get better when they compete and they've shown they are the best or among the best in California," said McGuire. "I want our SkillsUSA students to be seen as equivalent to student-athletes. The state and national competitions represent the pinnacles of their fields."
Hancock students participate in SkillsUSA competitions thanks to community support and donations from businesses like Quintron Systems, GE Forge, Tarlton and Sons, Community Bank of Santa Maria and Gene Haas Foundation.
Students in any career technical education (CTE) or occupational program at Hancock can compete in SkillsUSA. McGuire hopes more Hancock programs will get involved.
"There is a huge potential for other students from programs such as dental assisting, culinary arts, graphics and nursing," said McGuire. "There is unlimited potential for more Hancock programs and students to show they are among the best in California and the country."
The SkillsUSA National Championships will be part of the 53rd annual National Leadership and Skills Conference. More than 16,000 students, teachers and business partners are expected to attend. More than 6,000 outstanding career and technical education students, all state winners, will compete in 100 different trade, technical and leadership fields.
Hancock students, who participate in competitions, register for a SkillsUSA class offered by the college each semester. The college will offer SkillsUSA classes in auto body technology, architecture, automotive technology, electronics and machining/manufacturing technology during the fall semesters. Fall classes start August 21 and registration is under way for both summer and fall classes. To check out the class schedule for the summer and fall semesters, visit www.hancockcollege.edu , then click Class Search and select the specific semester.
- AHC -
Caption: Allan Hancock College will send five students to compete the SkillsUSA National Championships in Kentucky next month. Pictured above from left to right: Danny Mogg, instructor; Matt Evans, advisor; Charliemar Collado, student; Sebastian Ramirez, student; Daniel Deham, student; Hancock Superintendent/President Kevin G. Walthers; Robert Mabry, SkillsUSA instructor.