Plenty of Options for Students at Hancock's Lompoc Valley Center This Fall, Classes Begin August 21
Plenty of Options for Students at Hancock's Lompoc Valley Center This Fall, Classes Begin August 21
Nearly 100 classes still available!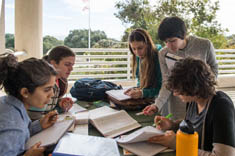 JULY 14, 2017--Whether it is studying the stars in astronomy, learning the fundamentals of physical yoga, exploring a possible career as a public safety dispatcher or mastering American Sign Language, there are still nearly 100 classes to choose from this fall at Allan Hancock College's Lompoc Valley Center. Registration for the fall 2017 term remains open through Aug. 20. Fall classes begin the week of Aug. 21.
Dozens of general electives that satisfy requirements at Hancock, as well as at four-year universities within the University of California and California State University systems are available for students to take at the Lompoc Valley Center. Classes range from accounting, administration of justice, agribusiness, art, biology, chemistry, early childhood studies, health education, mathematics, political science, Spanish, speech communication and more.
Lompoc Valley residents can now complete the requirements for 17 degrees from Allan Hancock College and 17 certificates without leaving town.
"With our state-of-the-art Public Safety Training Complex, Lompoc Valley residents have more options than ever for earning their degrees and certificates," said Rick Rantz, dean of Academic Affairs. "They are able to become firefighters, police officers, emergency medical technicians or complete transfer degrees that guarantee admission to the California State University and University of California systems. They can all be accomplished without leaving Lompoc."
Details about all fall classes are available at www.hancockcollege.edu; click the Class Search link on the home page. Class Search provides real-time information available 24/7. For details about a specific class, click its blue Course Reference Number (CRN).
First-time students must complete the online New Student Orientation and take the START placement test before registering. For more information on these steps, call the Santa Maria counseling office at 1-805-922-6966 ext. 3293 or click Apply and Register on the Allan Hancock College home page.
To register online, visit the college website and log on to the myHancock student portal. Click the Student tab, then Register/Add/Drop/Search Classes.
All California residents pay a $46 per credit enrollment fee. In addition, all students pay a $19 health fee for the fall term. Students attending classes at the Santa Maria campus also pay up to $10 a year for the Student Center fee. Other minimal fees may apply.
Financial aid is still available. Each year, more than 60 percent of Hancock students receive some form of financial assistance. To see if you quality, contact the Santa Maria campus financial aid office at 1-805-922-6966 ext. 3200 or finaid@hancockcollege.edu.
For more registration information, call the Admissions & Records office at 922-6966 ext. 3248. The toll free number in Santa Barbara and San Luis Obispo counties is 1-866-DIAL-AHC (342-5242) ext. 3248.
- AHC -
Caption: Lompoc Valley residents can now earn any one of 17 degrees and 17 certificates offered by Allan Hancock College without leaving the city limits. The college has more than tripled the number of degrees and certificates that can be earned at the Lompoc Valley Center over the last several years.