Industrial Technology Students Continue to Benefit From Generosity of Santa Maria Model A Ford Club
Industrial Technology Students Continue to Benefit From Generosity of Santa Maria Model A Ford Club
Ten Hancock students awarded a record $8,000 in scholarships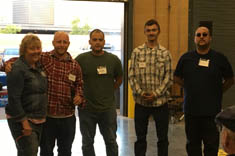 JUNE 9, 2017--A local car club has continued its tradition of funding scholarships for Allan Hancock College students in record-setting fashion. The Santa Maria Model A Ford Club donated $8,000 to the college's industrial technology department this year to fund student scholarships and pay for instructional supplies to the welding department.
"I went through the auto tech program at Long Beach City College, and I know the value of programs such as what they offer at Hancock," said Jay McCord, a Model A Ford Club member and former president.
The Santa Maria Model A Ford Club has been a long-time supporter of the auto body and auto technology programs. Founded in 2003 by Chuck Bailey, a former Hancock instructor, and Van Newkirk, the club started its partnership with Hancock with two scholarships for $200 each.
This year, the $8,000 went to ten AHC students of which four were in attendance at the club meeting held in the Auto Technology Lab this week on the Santa Maria campus.
"The support of the Model A members is critical to our program and shows our students how much the community believes in their pursuit of their educational goals," said Pat McGuire, automotive technology instructor and department chair.
During the meeting, scholarship recipient Josh Conger thanked the club for its support and spoke about his desire to learn how to restore cars like his father and make a living doing that. Conger, an auto body major, is also taking welding classes through the college's industrial technology department.
The club raises funds by hosting an annual car show. The 15th annual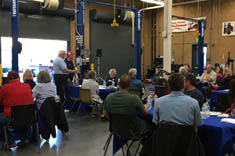 All Ford Car Show will be Saturday, September 9, 2017 in Old Town Orcutt. It will run from 9 a.m. to 3 p.m., and include a swap meet that begins at 7 a.m. The event is free and open to the public.
There is space available in the car show. The fee to register a car is $20 if completed before September 1, or $30 after the first. Find an entry form at www.santamariamodelaclub.com.
"All our work to put on the car show is motivated by our desire to raise as much money as we can for the scholarships," said Ron Wilkins, club president. "I earned an associate degree before transferring to Cal Poly. I know the importance of community colleges. It's a pleasure to be associated with Hancock."
To help raise funds, the club sells raffle tickets for a Santa Maria-Style BBQ built and donated by Hancock's industrial technology department. Tickets are $1 each, six for $5 or 12 for $10. The drawing will take place the day of the car show.
For more information, to enter a vehicle in the car show, or to get BBQ pit raffle tickets, visit www.santamariamodelaclub.com, or contact Jay McCord at (805) 598-8133 or at jemccord@aol.com.
- AHC -