Allan Hancock College Student Jenny Chiao Receives Prestigious $20,000 STEM Scholarship From PG&E
Allan Hancock College Student Jenny Chiao Receives Prestigious $20,000 STEM Scholarship From PG&E
Chiao will pursue her bachelor's and master's degrees at Cal Poly, San Luis Obispo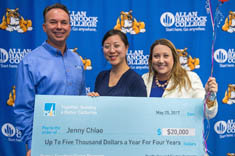 JUNE 2, 2017--Jenny Chiao walked into a room thinking she was about to be interviewed by a local television station about her upcoming graduation from Allan Hancock College. Little did she know what awaited her inside the room. Chiao, who earned six associate degrees from the college, learned she was one of 20 students in the state to receive a $20,000 scholarship from Pacific Gas and Electric Company (PG&E).
"I saw balloons and a big check, so it looked like I won Publisher's Clearing House," Chiao recalled. "I noticed the check said PG&E and $20,000, but I didn't put it together until they told me why they were there. All of this feels like a dream."
The scholarship is part of the utility company's Better Together STEM Scholarship program. Now in its fourth year, the program awards $1 million in scholarships to high school, community college and non-traditional students pursuing higher education in the fields of science, technology, engineering and mathematics (STEM). More than 1,000 students applied for the 20 available scholarships.
"PG&E is investing in promising students today because they are the leaders and innovators of tomorrow. The energy industry needs them, our communities need them and California needs them. Our Better Together STEM Scholarships are creating opportunities for today's students to reach their full potential," said Pat Mullen, director of PG&E's Los Padres division.
Chiao will receive $5,000 annually for up to four years to continue her education. She will start classes in the fall at Cal Poly, San Luis Obispo to pursue bachelor's and master's degrees in environmental engineering. Chiao said the scholarship will make a huge difference and allow her to focus on school and giving back to her community.
"I want to focus my skills to find productive methods to improve our planet's sustainability and protect public health," said Chiao. "As an engineer, I hope to work with communities to attain balance between lifestyle, technology, conservation and global health."
Raised in Southern California, Chiao found a family at the college's STEM and Mathematics Engineering Science Achievement (MESA) programs. She became active on campus, tutored, ran study sessions and joined the college's Science & Engineering Club. During her time at Hancock, Chiao was inspired and amazed by the college's faculty and staff. A handful of her favorite instructors, who turned out to be her biggest fans, were present for the scholarship announcement.
"To see some of my greatest mentors in the room to share the moment with me was perfect. They all contributed to where I am today," said Chiao, referring to D.K. Philbin, chemistry instructor; Christine Reed, faculty counselor and MESA coordinator; and Linda Metaxas, physics instructor and academic dean. "I am so inspired by them every day to be a better student, individual and leader. All the recent successes have only made me feel even more honored and grateful to be their student. I cannot stress how meaningful it is that they go above and beyond their jobs for their students, like me."
Because her Hancock instructors made such a profound impact on her life, Chiao plans to become a professor and give back to her community through education after gaining experience in the engineering industry. She also wants to continue serving as living proof that women can succeed in the STEM fields. When it comes to Chiao, Reed says the sky is the limit.
"Not only is Jenny deserving of this prestigious honor for all her hard work and perseverance in her academics, but it's also a good investment by PG&E to select her," said Reed. "She will make a difference in our community on a local, state and national level someday. She has already proven to be an asset to Allan Hancock College and the MESA program."
This summer, Chiao will participate in the Problem-based Initiatives for Powerful Engagement and Learning in Naval Engineering and Science (PIPELINES) program offered through UC Santa Barbara. The eight-week internship allows students to find the most innovative and effective design solutions to naval engineering and science projects. Chiao also has been accepted to the National Oceanic and Atmospheric Administration (NOAA) Holland program, which includes a two-year scholarship and paid summer internship.
- AHC -
Caption: Allan Hancock College student Jenny Chiao (center) received the prestigious Better Together STEM Scholarship from Pacific Gas and Electric Company (PG&E). The scholarship, presented by PG&E representatives Jeremy Howard (left) and Lindsey Miller (right), worth up to $20,000 over four years will help Chiao pursue bachelor's and master's degrees at Cal Poly, San Luis Obispo.