Hancock Students Honored at SkillsUSA National Championship
Hancock Students Honored at SkillsUSA National Championship
More than 6,000 students competed at the annual conference
JUNE 28, 2017--Five Allan Hancock College students showcased their career technical skills at the 53rd annual National Leadership and Skills Conference in Louisville, Kentucky June 21-23. More than 6,000 outstanding career and technical education students competed in 100 different trade, technical and leadership fields. Pacific Gas and Electric (PG&E) provided a path to nationals by financing the team's trip expenses.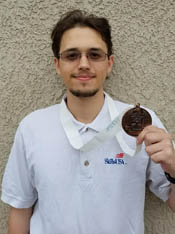 Wyatt Allen won the bronze medal for his project in technical drafting—an improvement from sixth place at last year's competition.
"When they said my name I was quite surprised and elated," said Allen. "At six hours in, I still had a lot to do. Every manufactured part has a model or drawing that goes with it. There is quite a lot of effort that goes into even the smallest part."
Allen received a set of sketches for an industrial equipment transmission assembly. He analyzed the sketch data to reproduce the components in blueprint format using SolidWorks, a drafting software. Judges rated seven blueprints to assign Allen's score.
Charlimar Collado, Sebastian Ramirez and Spencer Copeland were the first team to represent Hancock in the automated manufacturing technology discipline at nationals. Last year, the team came second in state championships and did not advance to nationals. This year, the team placed thirteenth overall.
Collado, Ramirez and Copeland received a 3-D model to recreate and communicated well to divide their labor into three phases: creating blueprints based on the model, using software to generate instructions for a machine and operating the machine itself.
Robert Mabry, a machining and manufacturing technology instructor at Hancock, credits the combination of soft skills training and technical skills to the success of the team.
"The students who start in the fall credit course learning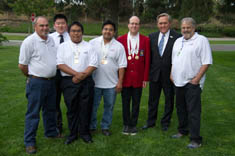 communication, critical thinking and skills for employment work better overall when we start competing in the spring semester. The results are measurable and quantifiable," said Mabry, the college's SkillsUSA instructor.
The benefits of competing at the regional, state and national levels are tangible for the students as well. Allen received an internship offer for technical drafting during a state competition. He chose to stay local, however, and is currently interning with Atlas Copco Mafi-Trench.
"We're seeing students who are well-rounded and employable, especially after competition," said Mabry. "It's resume gold."
Students in any career technical education (CTE) or occupational program at Hancock can compete in SkillsUSA including culinary arts, nursing and public safety.
To participate in competitions, Hancock students register for a SkillsUSA class offered by the college each semester. The college will offer SkillsUSA classes in auto body technology, architecture, automotive technology, electronics and machining/manufacturing technology during the fall semesters. Fall classes start August 21 and registration is under way for both summer and fall classes. To check out the class schedule for the summer and fall semesters, visit www.hancockcollege.edu, then click Class Search and select the specific semester.
- AHC -
Caption 1: Wyatt Allen sporting his bronze medal for his performance in technical drafting.

Caption 2: Allan Hancock College automated manufacturing technology students after qualifying for nationals. Pictured above from left to right: Danny Mogg, instructor; Matt Evans, advisor; Charlimar Collado, student; Sebastian Ramirez, student; Daniel Deham, student; Hancock Superintendent/President Kevin G. Walthers; Robert Mabry, SkillsUSA instructor.