Long-time PCPA Costume Designer Donates Collection of Sketches to Allan Hancock College
Long-time PCPA Costume Designer Donates Collection of Sketches to Allan Hancock College
Hundreds of sketches donated span the length of almost three football fields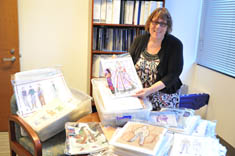 JUNE 19, 2017--They are the canvases upon which Romeo, Juliet, Gaston, Mary Poppins, Queen of Hearts, Annie, Mad Hatter, Gaston and Elinor Dashwood first came to life. It is how the cape for the main character in PCPA's production of Beauty and the Beast came to be. Now, hundreds of sketches, all the creative work of costume designer Judy Ryerson, are back in the halls of Allan Hancock College. Ryerson recently donated three boxes of costume-design sketches from nearly three decades worth of PCPA productions to the college. Laid out end-to-end, Ryerson said the sketches span the length of almost three football fields.
"They were sitting in my file cabinet. Now, they are back where they belong and can be appreciated by theatre lovers," said Ryerson. "Hopefully, this will inspire other designers and artists to donate some of their collections to further continue the legacy of PCPA."
The college plans to exhibit the artwork in the near future.
"The collection of sketches is a unique and generous donation," said Hancock Superintendent/President Kevin G. Walthers, Ph.D. "The college's Art on Campus Committee will make sure the sketches are hung on campus to share with as many people as possible."
Ryerson's time with PCPA spans nearly 30 years. Ryerson has designed more than 1,600 costumes for 64 PCPA productions. The shows cover the entire spectrum and genre. Some of the productions include Annie, Sense and Sensibility, Mary Poppins, The Music Man, Little Women, Joseph and the Amazing Technicolor Dreamcoat, and Beauty and Beast.
Before she starts to bring an empty canvas to life, Ryerson completes hours of pre-production work. She speaks with the director to hear his or her concept and vision, reads the script and factors in several variables, such as a play's time period, the actors, run of a show and location. When it comes to turning her creativity and artistic vision into costumes, Ryerson estimates it takes about three hours to complete a sketch.
"Costume designing is an art form, not a craft," said Ryerson. "People take costumes for granted because they dress up in clothes every day. I hope people see costume design as a sculpting process where we use actors' bodies as pallets for our art."
While Ryerson does not have a favorite costume, she does have a favorite moment in the costume design process.
"My favorite part is when the students in the costume shop and the actors light up and get excited the moment they see my sketches," said Ryerson. "To see my creativity spark creativity in others is an incredible feeling."
Ryerson worked full-time at PCPA from 1989-2005. She left PCPA in 2005 to become the head of costume design at the University of Nevada, Las Vegas, but she has returned to design costumes for eight more PCPA productions. Most recently, she created the costumes for Beauty and the Beast, which ran during the winter in the Marian Theatre and opened PCPA's summer schedule last weekend at the Solvang Festival Theatre.
"Judy's commitment to the whole story, more than 'merely' the costumes, makes her a wonderful collaborator," said Mark Booher, PCPA artistic director and associate dean. "Her deep experience and sophistication at taking essences of the narrative and translating them into color, texture and silhouette, which also make sense within the style of the play and activity of the individual character, make her a special designer to work with. The story comes first with Judy and she is willing to design boldly, adjust aggressively and compromise happily to serve the story."
Ryerson returned to the Central Coast last week in order to deliver her sketches and watch them come to life during opening weekend of Beauty and the Beast. The play runs through July 2 at the Solvang Festival Theatre. Lend Me A Tenor will run from July 6-23, Newsies runs from July 27-August 20, and Twelfth Night will play from August 24-September 10.
Ryerson hopes students and community members continue to support PCPA because she said it is a springboard for thousands of the biggest names in the industry, both on stage and back stage.
"I designed costumes for Zac Efron and Jessica Chastain. There are so many talented and big-named people all around the nation with connections to PCPA," said Ryerson. "PCPA is a well-run theatre program and highly respected around the world. It truly is an educational and cultural jewel."
- AHC -
Caption: Judy Ryerson donated costume sketches she drew for more than 60 PCPA productions to Allan Hancock College. Ryerson drew sketches more than 1,600 costumes, including the one in her hand for the Queen of Hearts.