Board Welcomes New Student Trustee With Big Dreams
Board Welcomes New Student Trustee With Big Dreams
Yesenia Beas officially sworn in for one-year term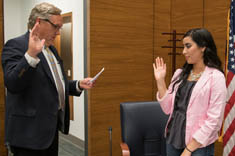 JUNE 14, 2017--The Allan Hancock Joint Community College District Board of Trustees seated a new student trustee on Tuesday evening. Yesenia Beas was formally sworn in by Hancock Superintendent/President Kevin G. Walthers, Ph.D.
Beas was born in Guadalajara, Mexico and immigrated to the United States when she was four. She went to Righetti High School and took classes through Hancock's College Now! program. Currently, Beas is a director of student advocacy for the Associated Student Body Government and is the president of the campus' Dream Club. She has an affinity for California Dream Act students and has visions of creating a student resource center.
"Education should not be denied to anyone, not even undocumented students," said Beas. "I don't want anyone to feel lost or worried about what could happen to them. I want to help students spread their wings and teach them to fly."
Beas said she was proud of the student-led effort earlier this year that resulted in the Allan Hancock College Board of Trustees passing a resolution to support diversity, unity and undocumented students.
As student trustee, Beas looks forward to learning about all the services the campus offers to students and how to make them even better. She wants to reframe the stigma concerning the amount of time it takes for students to transfer to another institution. She wants to help students find a balance between rotating class schedules, work and low placement scores in general education courses.
"I'm there for all students and they can stop me and ask questions at any time," said Beas. "I want to be an advocate for them and listen to their concerns. I want students to know what we can do to effect positive change."
She will earn her associate degree in psychology next spring and hopes to transfer to California State University, Channel Islands or Cal Poly, San Luis Obispo in fall 2018. She plans to pursue a master's degree and possibly a doctorate. Beas has ambitions to return to higher education as a school psychologist.
In addition to her major, Beas dances with Ballet Folklórico de Allan Hancock College and is taking manicurist cosmetology courses.
Beas replaces Carson Link, who served his one-year term as student trustee.
- AHC -
Caption: Allan Hancock College Superintendent/President Kevin G. Walthers, Ph.D. administers the oath of office to new student trustee Yesenia Beas.