Badge of Honor: Hancock Campus Safety Officer Daniel Meraz Sees Hard Work Pay Off With Dream Opportunities
Badge of Honor: Hancock Campus Safety Officer Daniel Meraz Sees Hard Work Pay Off With Dream Opportunities
Meraz is the first recruit sponsored by the Allan Hancock College Police Department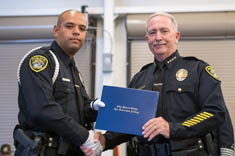 JUNE 12, 2017--To say Daniel Meraz has taken on a lion's share the last six months may be an understatement. The 24-year old is member of Class #112 of Allan Hancock College's Law Enforcement Training Academy. On top of the full-time commitment, he has worked full time at the college as a campus safety officer, and he is in the middle of the hiring process to join the Santa Maria Police Department as a police officer.
"I attended the academy all day Monday through Friday, which was an amazing and life-changing opportunity," said Meraz. "I also work as a campus safety officer at the college 37 hours a week. I try to work two hours on Thursday, five on Friday, and 15 hours on both Saturday and Sunday."
Adding to the excitement, Meraz and his fiancé, Jamie, were married in March, and the couple is expecting their first child in July.
"I've missed a lot of her doctor's appointments and couldn't help with the wedding," said Meraz. "I am so lucky to have such an understanding and supportive wife. Jamie is my rock, and I would not be where I am today without her."
Meraz started working at Hancock five years ago as an on-call campus safety officer shortly after graduating from Santa Maria High School. A few years later, he became the college's first full-time campus safety officer. Last fall, he was offered a position as an officer with the Los Angeles Police Department and a spot in the department's training academy. That is when Hancock Police Chief Paul Grohowski and the college offered another option.
"They offered to make me the first recruit in Hancock's Law Enforcement Training Academy to be co-sponsored by the Hancock police department. Almost that same day, I found out my wife was pregnant," recalled Meraz. "It was an amazing opportunity to stay in my hometown, have some of the financial burden of paying for the academy taken off my shoulders, and start down the path to a new career to support my family. I was blown away."
The 21-week, 840-hour academy has been life changing for Meraz in more ways than one.
"I don't remember what it's like to get eight hours of sleep," joked Meraz. "When I started the academy, I weighed 240 pounds. Right now, I weigh 193 pounds. A lot of it has to do with the physical training in the academy and that I'm always in motion with the academy, work and life."
All of the time and effort paid off. Meraz was hired during the academy as a police officer with the Santa Maria Police Department.
"To work for the Santa Maria Police Department is like coming home," said Meraz. "I joined the Santa Maria Police Explorers when I was 14. I stayed with them until I was 23, including the last two years as an advisor. Now after a few years at my second home, Hancock, I am able to go back as a police officer."
Growing up in what he described as a rough part of town, Meraz said he knew at a young age he wanted to be a police officer.
"I grew up in a world of bad. Whenever I saw police officers in my neighborhood, they helped make me feel safe. I would talk to them and ask them what it was like to be an officer," recalled Meraz. "Once I learned and saw how they help people and all the programs you can be involved in, I knew it was what I wanted to do."
Chief Grohowski said there was no greater satisfaction than to see other people reach their full potential.
"I am humbled to have played a small part in helping Campus Safety Officer Meraz turn his dream of becoming a police officer into a reality," said Grohowski. "I have no doubt Daniel will continue to serve the citizens of Santa Maria with the same level of exceptional customer service that he has served the staff and students at Allan Hancock College the last five years."
Class #112 graduated from the academy last Thursday. Following graduation, Meraz will start his new career with the Santa Maria Police Department.
In early July, he will add another new title, father. Meraz and his wife are expecting their first child, James, on July 6. Perhaps, Meraz should get used to not getting eight hours of sleep.
- AHC -
Caption: Daniel Meraz accepted his certificate from Allan Hancock College's Law Enforcement Training Academy from Santa Maria Police Chief Ralph Martin. The first recruit sponsored by the Allan Hancock College Police Department, Meraz spent the last five years as a campus safety officer for the college.