Twenty-Four Recruits Graduate From Hancock's Law Enforcement Training Academy
Twenty-Four Recruits Graduate From Hancock's Law Enforcement Training Academy
The ceremony was held at the Public Safety Training Complex at the Lompoc Valley Center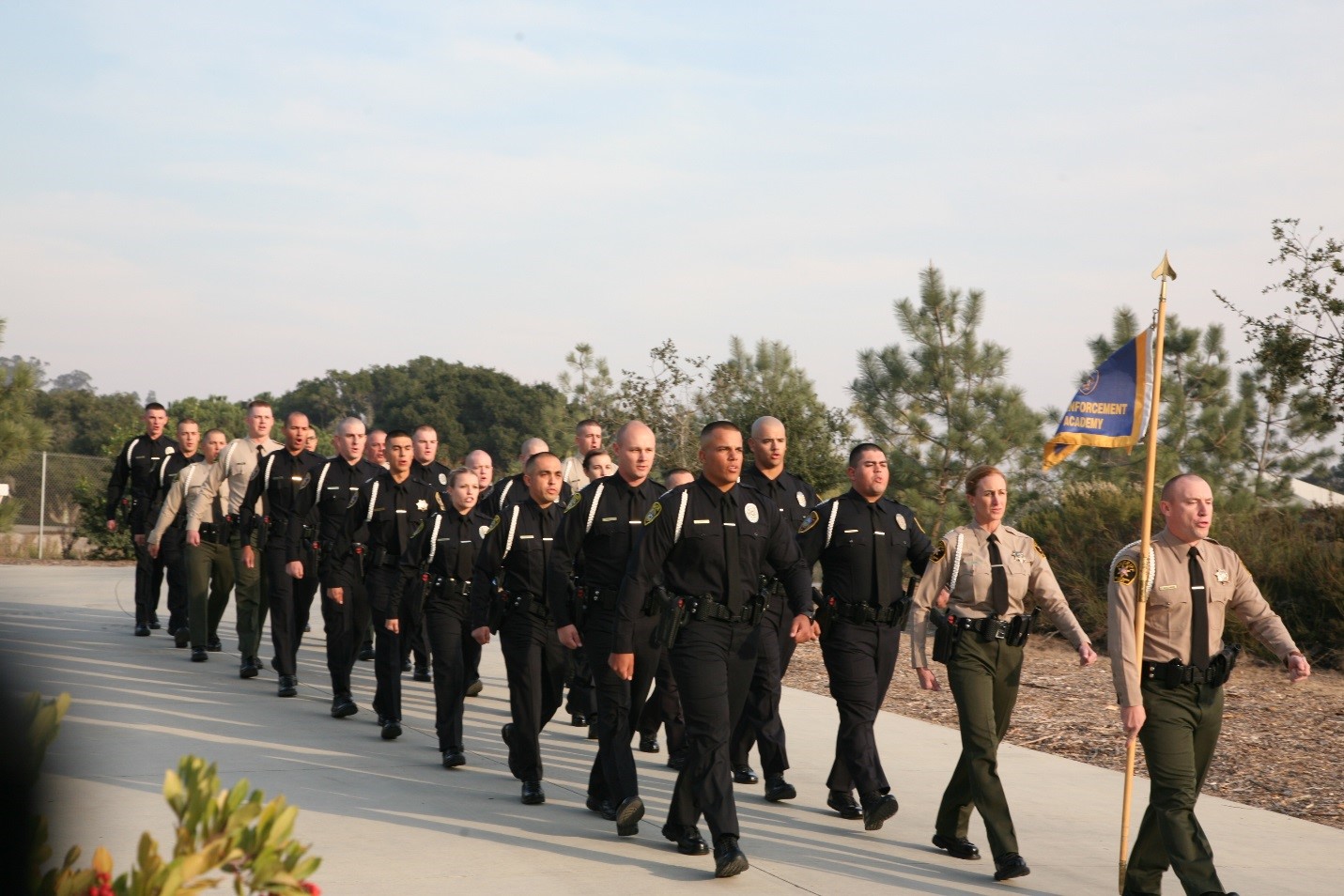 DECEMBER 8, 2017--Twenty-four recruits saw their sacrifice, hard work and dedication over the last 21 weeks pay off on Friday as they graduated from Allan Hancock College's Law Enforcement Academy. The college held the graduation ceremony for Class #113 at its state-of-the-art Public Safety Training Complex in Lompoc.
"There's no better training place for first responders in California or the entire West Coast than this facility here," said Kevin G. Walthers, Ph.D., Hancock superintendent/president. "When something goes wrong at your house and someone responds in this area, the nurse or firefighter or EMT or police officer who responds is likely an Allan Hancock College graduate who received the best training possible."
Recruits started training at the Public Safety Training Complex in Lompoc in July. Nearly 850 hours of training later, each recruit shot more than 35,000 rounds of ammunition, passed 26 written exams and 14 scenario exams, as well as successfully completed testing for arrest and control, physical training, report writing and emergency vehicle operations.
"I feel like Allan Hancock College and this academy have prepared me very well to start my career as a police officer," said Ethan Brown, a Righetti High School graduate who entered the academy after first working as an EMT and wildland firefighter. "After learning and suffering side-by-side for the last five months, I am proud to graduate with my classmates. We grew into a family here and I can confidently say we are ready to start our next level of training."
Brown is one of the 22 graduates who already have jobs with law enforcement agencies. He is one of the six recruits sponsored by the Santa Maria Police Department. Five recruits will start with the Santa Barbara County Sheriff's Office. Four recruits were sponsored by the Lompoc Police Department, while the University of California, Santa Barbara Police Department hired three students. Two recruits were hired by the San Luis Obispo County Sheriff's Office, while the Santa Barbara Airport and Cal Poly police departments hired one recruit apiece.
Class #113 features three women, 12 recruits with bachelor's degrees, one recruit with a master's degree, four military veterans, as well as seven recruits who previously worked as EMTs or custody officers.
In addition to the written and skills tests, recruits underwent hours of physical training. As a class, recruits completed more than 8,400 sit-ups, 40,000 pull-ups, 86,000 push-ups, and ran 1,300 miles. Collectively, the class lost a total of 236 pounds.
Jonathan Kraetsch, a recruit sponsored by the UC Santa Barbara Police Department, was named the class valedictorian.
Santa Maria Police Chief Phil Hansen delivered the keynote address.
Earlier in the day, 29 cadets graduated from the college's Fire Academy as part of Class #140.
Sponsoring/Hiring Departments of Class 113:
Santa Maria Police Department (6): Michael Abeloe, Ethan Brown, Alexander Harvey, Logan Honeycutt, Juan Rodriguez, Francesca Zenkner
Santa Barbara County Sheriff's Office (5): Nicholas Adomaitis, Anthony Chaboya, John Doupe, Derrick Graham, John Heil
Lompoc Police Department (4): Cayla Cavaletto, Stan Duncan, Stephen Pena, Edwin Ruiz
UCSB Police Department (3): Corey Chavez, Jonathan Kraetsch, Sean Schuster
San Luis Obispo County Sheriff's Office (2): Kara Dickel, David Woodward
Independents (2): Cutler Bandon, Kameron Woods
Cal Poly Police Department (1): Thomas McNutt
Santa Barbara Airport Police Department (1): Steven Herrera
- AHC -
Caption: Class #113 of Allan Hancock College's Law Enforcement Training Academy take the Law Enforcement Code of Ethics at the end of graduation. Twenty-two of the 24 recruits already have jobs secured with Central Coast law enforcement agencies.