Hancock Offers Short-Term Classes At Vandenberg AFB, Courses Are Open To The Public
Hancock Offers Short-Term Classes At Vandenberg AFB, Courses Are Open To The Public
Evening and weekend classes available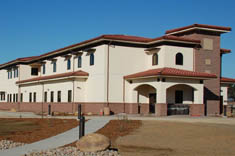 MARCH 3, 2016--Lompoc Valley residents are still able to take any one of four general education, college credit classes this spring semester at Vandenberg Air Force Base. Allan Hancock College is offering the classes beginning the weeks of March 14, March 28 and April 18 at the state-of-the-art Vandenberg AFB Center.
"The four fast track classes are perfect opportunities for people who live or work in the Lompoc Valley," said Rick Rantz, dean of Allan Hancock College's extended campus. "Some include evening classes that meet once or twice a week and count toward various majors."
For people looking to gain an advantage over others in the workforce, Hancock is offering Human Relations in Business (BUS 107). The four-week class focuses the study of human relations in business, including multicultural and gender relationships in the workplace. The three-credit class meets on Fridays from 5:30-9:45 p.m., and Saturdays from 8 a.m.-5 p.m.
The college is offering four-week Health and Wellness (HED 100) class, which helps students assess their health status, and use those assessments to change behaviors that can contribute to an unhealthy lifestyle. The three-unit course meets Fridays from 5:30-9:35 p.m., and Saturdays from 8 a.m.-5 p.m.
Students can also take a four-week survey course in the science of society in Intro to Sociology (SOC 101). The three-unit class meets Fridays from 5:30-9:35 p.m., and Saturdays from 8 a.m.-5 p.m.
Those interested in becoming better communicators and wanting to feel more comfortable talking to audiences can enroll in Public Speaking (SPCH 101). The eight-week class meets on Saturdays from 9 a.m.-4:10 p.m.
The classes take place in the 38,385 square-foot Education Center, which opened to the public in 2014. The facility includes an auditorium, 20 lecture classrooms, conference rooms, a library and computer labs. Hancock's administrative space is located on the second floor in Room 216. The Vandenberg AFB center offers counseling, financial aid and cashiering services.
"The new education center is beautiful and offers plenty of parking and amenities for our students, faculty and guests. Plus, the process to gain access to the base is quick and easy as long as you have the appropriate items," added Rantz.
In order to access the base, students are required to provide proof of registration in the course held at Vandenberg AFB with either a registration document or receipt. A student must also show a valid driver's license, current vehicle registration and proof of insurance in order to receive a gate pass on the first day of class at the main gate visitor's facility.
Registration for short-term classes is now under way. All students register online via myHancock, which is accessed from the college's website at www.hancockcollege.edu; click the Student tab, then Register/Add/Drop/Search Classes.
New students and those without a user name and password must first apply for admission to the college before registering for classes. To access the online admission application, click Apply & Register and then select the appropriate admission form.
The enrollment fee for California residents is $46 per unit, meaning a typical three-unit class costs $138. Other minimal fees apply.
For more information about the VAFB center, contact (805) 734-3500 ext. 3250. For questions about enrollment, call 1-805-922-6966 ext. 3248.
- AHC -
Caption: Allan Hancock College is offering four short-term classes that start the weeks of March 14, March 28 and April 18 at the Vandenberg Air Force Base Center. The classes are open to the public. Proper identification and proof of registration in the class are required to gain access to VAFB. Class registration is under way on the college's website at www.hancockcollege.edu.