Class Mixes Kids With Science In The Kitchen
Class Mixes Kids With Science In The Kitchen
Hands-on class will have kids see food in a completely new way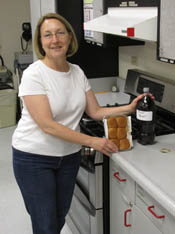 FEBRUARY 10, 2016--Chemistry is happening all around, especially in the kitchen. Young future scientists now have an opportunity to learn basic chemistry in a very familiar setting in a new class. Chemistry in the Kitchen is offered through Allan Hancock College Community Education's College for Kids program.
This hands-on class will show kids why oil and vinegar do not mix, what makes bread rise and why dropping a mint into a soda bottle creates a geyser. Students also learn about chemical reactions by making root beer. After taking this class, kids will see food in a completely new way!
The class is for youth ages 11–15 and is held Saturday, Feb. 27, from 9 a.m.–2:55 p.m. on the Santa Maria campus, Room I-216. Children should bring a sack lunch. The fee is $36, plus a $10 materials fee that is payable to the instructor in the classroom.
Instructor Molly Machin is a graduate from California State University, Long Beach, and has taught science at the primary, high school and college levels.
Register in person at Community Education (bldg. S) Santa Maria campus. (Registration is not accepted in the classroom.)
For more information, see the spring 2016 Spectrum schedule of Community Education classes, available online and at all campus locations, or call 1-805-922-6966 ext. 3209.
- AHC -
Caption: Instructor Molly Machin will teach students about chemical reactions and more in Chemistry in the Kitchen, a class offered through Allan Hancock College's College for Kids program.