Artwork Created by Hancock Professor Featured in New Exhibit in College's Ann Foxworthy Gallery
Artwork Created by Hancock Professor Featured in New Exhibit in College's Ann Foxworthy Gallery
"In Context: Transdisciplinary Works and Other Musings" on display Sept. 1-Oct. 7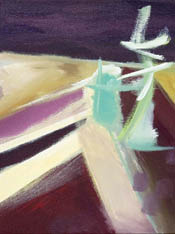 AUGUST 25, 2016--Jill Thayer, Ph.D. is an artist, educator, curatorial archivist, writer, designer and art historian who lives in a state of perpetual motion. Her vibrant personality and passion for life are reflected through the high-energy palette that infuses light into her art. The confluence of the artist's passion, inspiration and journey can be seen in a new exhibit called "In Context: Transdisciplinary Works and Other Musings."The showopens Thursday, September 1, at the Ann Foxworthy Gallery on the Allan Hancock College campus in Santa Maria.
A reception for the artist will be held on Wednesday, September 14, from 2:30-4 p.m. Gallery Director Marti Fast is excited that visitors will have the opportunity to interact with the artist at the reception.
"Jill is all about the conversation between artwork and viewer, student and teacher, reader and writer, and one person to another. She connects ideas and expression together in new ways that inspire those around her," said Fast.
For Thayer, theory and practice inform her life and art in a constant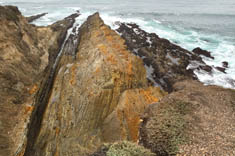 conversation between medium and message. Fluent in a broad range of art-making media, the artist expresses ideas and energy through painting, photography, digital media, installation, and graphic design. Additionally, her fluency as a prolific author allows the conversation another voice through contributions to the likes of ARTPULSE Magazine and ARTDISTRICTS Magazine.
Thayer teaches art appreciation at Allan Hancock College, where students are engaged by the enthusiasm of their instructor. Gallery visits, animated class discussions on the lawn, and hands-on art experiences bring the broader conversation into the classroom. Thayer thrives on these interactions, and makes art come to life in her packed classes.
Thayer also offers online courses in global visual culture at Santa Monica College, and integrative strategies and marketing management at Post University Malcolm Baldrige School of Business. The Atascadero resident somehow finds time to serve as a part-time curator at Estrella Warbird Museum working toward accreditation.
Thayer earned her doctorate in cultural studies/museum studies in the areas of exhibition theory, contemporary art history, design theory, and visual culture from Claremont Graduate University in 2011. This work included a transdiscpilinary Ph.D. study in global strategy and trade at St. Peter's College at University of Oxford, UK. Her post-doctoral project, "In Their Own Words: Oral Histories of CGU Art," produced digital narratives that are included in Archives of American Art at The Smithsonian Institution. Prior to relocating to the Central Coast in 2014, she was a gallerist for 15 years and owner of a design firm for 25 years in Bakersfield.
Opening Thursday, September 1, the show will be on display through October 7, at the Ann Foxworthy Gallery, located in the Academic Resource Center, bldg. L-South, on the Santa Maria campus.
Gallery hours are Monday-Thursday, from 9 a.m. to 7:30 p.m., Friday from 9 a.m. to 3 p.m., closed weekends and school holidays. Parking passes are $2/vehicle. For more information, contact the fine arts department at 1-805-922-6966 ext. 3252, or Fast at ext. 3465.
- AHC -
1) "Zen," 2016, digital print from acrylic painting
2) "Montaña de Oro," 2016, digital photograph
3) "March Gale," 2016, digital print from acrylic painting