Losing A Legend: Former Allan Hancock College Trustee President Henry M. Grennan Passes Away
Losing A Legend: Former Allan Hancock College Trustee President Henry M. Grennan Passes Away
Grennan served on the board of trustees for 12 years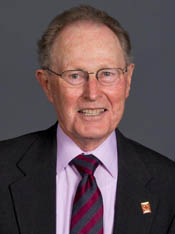 MAY 2, 2017--Henry M. Grennan, a man who devoted himself for decades to improving the lives of thousands of Santa Maria Valley residents, lost his battle with cancer on Monday, May 1.
Grennan served on the Allan Hancock Joint Community College Board of Trustees for 12 years, including terms as president and vice president of the board. He dedicated his life to education, working as a teacher and administrator for 30 years for the Santa Maria-Bonita School District and nearly 13 years at Chapman/Brandman University.
"Henry Grennan is a legend in the Santa Maria Valley," said Hancock Superintendent/President Kevin G. Walthers, Ph.D. "All of us at Hancock are fortunate to call him 'friend'."
Grennan shared a vision to establish and maintain Allan Hancock College as the premier institution of higher education in northern Santa Barbara County. A trustee from 2000-12, he delivered on that vision of success by making it possible for the college to help hundreds of thousands of students succeed. Always a supporter of the college, Grennan started a scholarship in 2001 through the Allan Hancock College Foundation in honor of his son, Patrick. Grennan was instrumental in securing community support for the passage of a $180 million bond in 2006 that led to new construction and improvements at the college.
"Henry Grennan became a role model and mentor for me when I joined the Allan Hancock College Foundation Board in 2000, and later when I was elected to the board of trustees," said Gregory A. Pensa, president of the Allan Hancock College Board of Trustees. "Henry helped me understand the importance of compassion, passion, vision for the future and love for the college and community when it comes to serving as a trustee. I am a better trustee and the entire college is better off because of him."
Allan Hancock College held a special place in Grennan's heart. He met his wife, Beverly, at the college. After earning an associate degree from Hancock, Grennan enlisted in the United States Marine Corps before enrolling in and graduating with bachelor's and master's degrees from Cal Poly, San Luis Obispo.
Grennan went on to become an elementary school teacher and principal in Santa Maria. He also served on the Vocational Training Center (VTC) Enterprises Board of Directors for many years and fundraised for VTC's recent facility expansion project. During his time on the Recreation and Parks Commission, numerous community leisure facilities and programs were created including: Rotary-Centennial Park, Jim May Park, Maldonado Youth Center, Rodenberger Park, and Los Flores Ranch Open Space.
Earlier this year, the city's Recreation and Parks Commission dedicated and named the new sports field at Oakley Park the Henry M. Grennan Field.
Grennan was 80 years old. He is survived by his wife, Beverly, their five children and numerous grandchildren. Condolences can be sent to Grennan's family at 1314 Emerald Way, Santa Maria, CA 93454.
A rosary for Grennan will be on Thursday, May 11, at 6 p.m. The funeral mass will be the following day, Friday, May 12, at 1:30 p.m. Both will be at St. Mary of the Assumption Church in Santa Maria at 414 E. Church. After a private burial service, a reception will take place at the Santa Maria Vets Hall, which is located at 313 W. Tunnell Street in Santa Maria.
- AHC -
Caption: The Santa Maria Valley and Allan Hancock College lost one of its biggest supporters and champions on Monday, May 1. Henry M. Grennan, a former Hancock Board of Trustee and long-time educator, passed away at the age of 80. The college compiled photographs of Grennan that can be viewed at https://www.flickr.com/photos/126591732@N06/albums/72157683246584976 .