Class to Remember: Record 993 Students Graduate From Allan Hancock College
Class to Remember: Record 993 Students Graduate From Allan Hancock College
The 96th annual Commencement took place on the college's Santa Maria campus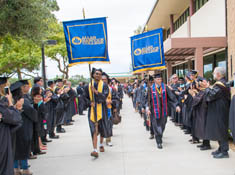 MAY 26, 2017--Allan Hancock College celebrated the end of a record-setting year during the college's 96th annual Commencement Friday afternoon on the Santa Maria campus. A record 993 students earned a record 1,411 associate degrees in 93 different majors. The number of students represented an increase of 11 percent over last year, while the college experienced an eight-percent jump in degrees earned. Students also earned 817 certificates of achievement in the last year, a 15-percent jump over last year.
"Graduates, today you set out on a new path," said Hancock Superintendent/President Kevin G. Walthers, Ph.D. "Whether you are starting a new job next week or preparing to continue working toward a bachelor's degree, I hope you will dream big. If you follow your heart and be good at what you love, you will go far."
Fifty-nine percent of the 993 graduating students are female, and the median age of students graduating is 24. The youngest graduate, Holland Davenport, turned 18 in February. Davenport earned an associate degree for transfer in English. The Orcutt Academy graduate plans to enroll in the college's PCPA program in the fall. The oldest graduate, 65-year old James Macau, earned two associate degrees.
Twenty-seven percent of the Class of 2017 earned two or more degrees. Emmett Lambert earned a remarkable 10 associate degrees, including eight in science, technology, engineering and math (STEM) fields. Lambert will transfer to Cal Poly, San Luis Obispo in the fall. He was one of182 Hancock students accepted as transfer students to Cal Poly for fall 2017. Sixty-four percent of Hancock students who applied for fall 2017 admission to Cal Poly were accepted, extending the college's streak for the state's highest transfer acceptance rate to Cal Poly to 16 consecutive years.
Two-hundred-one graduates received honors for having 3.5-3.99 grade point averages, while nine received high honors for 4.0 GPAs.
Commencement speakers reminded students about the financial impact their associate degrees and certificates would have in their lives. Studies show students with an associate degree earn $400,000 more in their lifetimes than peers with only high school diplomas.
"Your determination and perseverance will pay dividends both financially and emotionally," said Gregory A. Pensa, president of the Hancock Board of Trustees. "Students who earn a degree or certificate nearly double their earnings within three years. You've also nearly doubled your chance of finding a job compared to those who have not earned an associate degree."
Michael Huggins, who served the last year as president of the Associated Student Body Government (ASBG), implored fellow graduates to utilize the education they received at Hancock to be the best they can be.
"This is not the moment to rev down your engines, rather, this is the time to gather every bit of strength you have and press forward into the world," said Huggins, who will transfer to CSU Sacramento in the fall. "We need you because we all have a stake in our future. This college community has taught me the importance of supporting each other throughout our educational journey. I realize now that it's not just in education where we must support each other, but it's also in our journey through life."
Associate Superintendent/Vice President, Student Services Nohemy Ornelas urged students to always be grateful and proud of their accomplishments at Hancock.
"Each of you has a unique journey – your own story of perseverance and overcoming challenges to achieve your degrees. You represent the greatness of Allan Hancock College," said Ornelas. "Remember, you will forever be a graduate of Allan Hancock College. As a Hancock alumna myself, I hope you will always be proud to be a Bulldog and proud of Hancock roots, just like I am."
A closer look at the 993 graduates revealed that 476 students live in the city of Santa Maria, 189 reside in Lompoc, 71 live in Nipomo, and 35 students call Arroyo Grande home. Twenty-six graduates reside in Guadalupe, and 26 more live in Orcutt. Fourteen graduates live in the Santa Ynez Valley.
The most popular associate degrees earned this year were liberal arts-transfer: social and behavioral sciences (144), liberal arts-transfer: mathematics and sciences (132), and liberal arts- non-transfer: social and behavior sciences (126).
- AHC -
Caption: Marcellus Garrick, (left), and Cody Cowin, (right), lead the graduation processional at Allan Hancock College. A record 993 students earned a record 1,411 associate degrees in 93 different majors.