Celebrating Student Success: Allan Hancock College Foundation Awards Record Number of Scholarships Worth More Than $500,000
Celebrating Student Success: Allan Hancock College Foundation Awards Record Number of Scholarships Worth More Than $500,000
Hundreds of students, family, donors, faculty, staff and community members were in attendance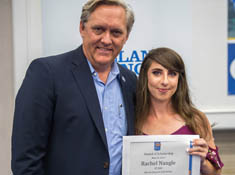 MAY 25, 2017--The Allan Hancock College Foundation celebrated its 40th anniversary by breaking two records at its annual Scholarship Awards Reception Thursday afternoon. A record 470 scholarships, worth more than $500,000, were awarded to a record 391 Allan Hancock College students. Hancock sophomore Rachel Naugle likely experienced the biggest thrill of the event when she received the prestigious Marian Hancock Scholarship. Named in honor of the late wife of Captain G. Allan Hancock, the scholarship is awarded to one outstanding student each year who exemplifies service to the school, scholastic achievement and personal conduct.
"I am overwhelmed. This is so unbelievable," said Naugle, who will transfer to Cal Poly, San Luis Obispo in the fall, moments after her name was announced as the scholarship winner. "It will be huge for me financially and cover more than half of my tuition for the first year."
Naugle will graduate with high honors and a 4.0 grade point average on Friday. The first student-athlete to win the Marian Hancock Scholarship in 16 years, Naugle played women's soccer and ran track for the Bulldogs. Last weekend, she finished seventh at the CCCAA Track and Field State Championships in the women's 3,000-meter steeplechase.
"Playing two sports and taking a full load of classes over the years has taught me how to put everything into everything I do," added Naugle. "My time at Hancock has proven that you really can start here and go anywhere."
A scholarship committee composed of 15 Hancock faculty and staff determined the recipients from more than 1,000 applications. Applicants did not know the specific scholarship or dollar amount until they met the donor at the reception.
"I can't thank our donors enough for believing in us and helping us continue our journey," said Michael Huggins, the Associated Student Body Government president, who received multiple scholarships on behalf of the foundation. "Personally, the scholarships I received mean so many things – it will let me focus on school when I transfer in the fall to Sacramento State, it will help me get involved on campus, and help me pursue my dreams."
Since its creation in 1977, the foundation has helped thousands of students succeed and pursue a college education. The theme of this year's event was "Celebrating 40 years of success!"
"I can't put into words how proud I am to have played a small role in what the foundation has become - a beautiful partnership between our wonderful donors, the help of financial aid, and our amazing students," said Agnes Grogan, the first executive director of the Allan Hancock College Foundation."
Grogan provided the keynote address during the reception. She said since day one, the foundation had been there to help students fulfill the college motto, Start here. Go anywhere.
"As you move forward to pursue your dreams, remember the teachers, counselors, family and friends, who prepared and guided you for this very moment," she told students. "Your anywhere is out there and it is attainable. My hope for you is that you enjoy your journey."
The foundation awarded 10 new scholarships this year, including the Ayleen Melsheimer Memorial Scholarship. Melsheimer was a nursing instructor at the college for five years. She passed away in January after a more than 10-year-long battle with cancer. Nursing student Kelsey McDonald received the scholarship this year started in her memory.
The college will host its 96th annual Commencement Friday, May 26, at 1 p.m. in The Commons. During the 2016-17 academic year, 993 students earned a combined 1,409 associate degrees. Several hundred students are expected to participate in the ceremony.
- AHC -
Caption: Allan Hancock College Superintendent/President Kevin G. Walthers, Ph.D. presented Rachel Naugle (right) with the prestigious Marian Hancock Scholarship. The Allan Hancock College Foundation awarded 470 scholarships to 391 students worth more than $500,000.