Allan Hancock College to Host Hancock Hello for New Students Aug. 15
Allan Hancock College to Host Hancock Hello for New Students Aug. 15
Orientation introduces students and parents to campus and services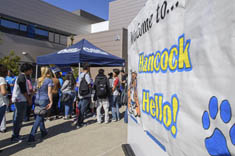 AUGUST 7, 2017--Knowing the first day of college can be intimidating for various reasons, Allan Hancock College will roll out the welcome mat one week early for new students. The college will host Hancock Hello on Tuesday, August 15, from 4-7 p.m. outside the Student Center on the Santa Maria campus. Fall classes begin the following week, the week of August 21.
"Whether it's finding out where your classes are located, getting your student identification card, or applying for financial aid, starting college can be overwhelming," Yvonne Teniente, student services dean. "Hancock Hello is a chance for first-time students to become familiar with the college and the services we provide to make their transition as smooth as possible."
Students will be able to take a tour of campus, receive their student ID card, learn about student clubs and organizations, as well as receive free food and prizes. Workshops will be offered on various topics from counseling, financial aid, transferring to a four-year university, and student technology. Tours and workshops will be provided in both English and Spanish.
"We want our new students to start smart. By attending Hancock Hello, they will learn what it takes to succeed at Hancock," added Teniente.
Parents are welcome to attend the free event. Parking is free the day of the event. Food will be provided for students and their parents.
Students can register for the event at www.hancockcollege.edu/HancockHello.
For more information the event, please contact the Student Activities office at 1-805-922-6966 ext. 3734 or email srobb@hancockcollege.edu.
- AHC -
Caption: New Allan Hancock College students and their parents are invited to a one-day orientation event called Hancock Hello on Tuesday, August 15. The event, which runs from 4-7 p.m., will help students start their first semester on the right foot. To register, visit www.hancockcollege.edu/HancockHello.