Hancock Welcomes 15 New Full-Time Faculty to Start Fall Semester
Hancock Welcomes 15 New Full-Time Faculty to Start Fall Semester
Since 2016, Hancock's full-time faculty size has increased by 27 percent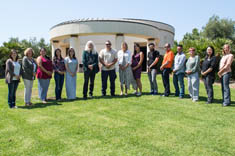 AUGUST 17, 2017--For the second straight year, Allan Hancock College added more than one dozen new full-time faculty prior to the start of the fall semester. The college recently hired 15 new full-time faculty members. Last year, Hancock welcomed 21 new full-time faculty. The two-year total of 36 instructors increased Hancock's full-time faculty size by 27 percent.
"Full-time faculty are a key component to the quality of our college and our future plans," said Kevin Walthers, Ph.D., superintendent/president of Allan Hancock College. "Our investment in new faculty is designed to expand our enrollment base and help the college grow and improve."
The hiring was an effort by the college to accommodate high-demand classes, meet student access needs, eliminate bottlenecks in core classes, and replace retired instructors.
"The board of trustees understands the need to provide increased access to classes and quality instruction for our students," said George Railey, Jr., Ed.D., associate superintendent/vice president, academic affairs at Hancock. "Every position was carefully vetted by academic departments to ensure our students continue to be taught by creative, dedicated and talented faculty."
With more than 10 years of teaching experience at California State University, Channel Islands, Amiko Matsuo joined Hancock this summer as an associate professor in the art department. While at Channel Islands, Matsuo taught all levels of ceramics and developed an international travel course that took students to rural Japan to learn from Japanese artists.
"I can already tell that I am going to be working with great people who do great things together," said Matsuo.
Matsuo replaced Bob Nichols, who retired after teaching ceramics for more than 30 years at Hancock. Like Nichols, Matsuo sees the ceramic studio as a kind of community, where people with different experiences and ways of seeing the world can work together to share knowledge and resources.
"I believe in creating connections through clay, and Allan Hancock College shares my values about how innovative teaching and learning strengthens communities," said Matsuo. "I wanted to join Hancock because I saw the potential to build communities both locally and regionally, and I want to transform our world into a more just and inclusive place."
Seven of the new full-time faculty served as part-time instructors at the college. Claudia Diaz worked as a part-time Spanish instructor at Hancock for seven years before applying for and receiving the full-time position. She looks forward to a new experience as full-time faculty.
"I feel accomplished, fulfilled and honored to start working full-time at Allan Hancock College," said Diaz. "As an alumna of the college, I cannot be more excited about having a full-time position and the chance to guide my students in becoming active learners. I cherish the opportunity to give back to a college community that did so much for me during the beginning of my educational career."
After working as a part-time instructor the last nine years at Hancock, John Ceceña was hired as a full-time associate professor of fire technology. His 26-year career in fire service spans employment with the Oceano, Arroyo Grande, Avila Beach and Oxnard fire departments.
"I applied for the full-time position because I have a passion for teaching and for the fire service," said Ceceña. "I will continue to take great pride in helping to develop and maintain current and future generations of firefighters for many years to come at Hancock. The future is bright for the college's fire technology department and the Public Safety Training Complex."
With the substantial increase in new faculty hires, Hancock continues to go to great lengths to help integrate the new associate professors with the college. The new hires will attend a new faculty orientation to understand Hancock's mission and values. They will also take part in a year-long faculty training program.
Hiring committees in nearly every academic department screened more than 410 applicants in an effort to hire the right people to help accomplish the college's mission and goals.
"It takes teamwork from everyone – I can't stress that enough," said Lizbeth Philips, recruitment coordinator at Hancock. "With the assistance of all the Human Resources staff and faculty, we started the planning process months in advance to make sure that the process was streamlined and exceptionally organized. It paid off in a big way."
Fall classes at Allan Hancock College begin the week of August 21.
Below is a list of the new 15 full-time faculty at Allan Hancock College:
Adrienne Allebe, assistant professor, fine arts
Lynn Becerra, Personal Development Instructor, counseling
Lainey Campos, counselor, athletics
John Ceceña, assistant professor, fire technology
Kenneth Cope, assistant professor, multimedia
Kellye Cohn, assistant professor, Librarian
Jill Cralley, assistant professor/coordinator, medical assisting
Chris Diaz, assistant professor, music
Claudia Diaz, assistant professor, Spanish
Sean Gottlieb, assistant professor, chemistry
Martha Hull, assistant professor, CAN
Amiko Matsuo, assistant professor, Art, 3-D Emphasis
Megan McComas, assistant professor, licensed vocational nursing
Jesus Solorio, assistant professor, dance
Chellis Ying, assistant professor, English
- AHC -
Caption: For the second straight year, Allan Hancock College added more than one dozen new full-time faculty prior to the start of the fall semester.