Digital Art Created By Hancock Professor Nancy Jo Ward Featured In International Exhibit
Four pieces showcased in "Wide Open Digital 2"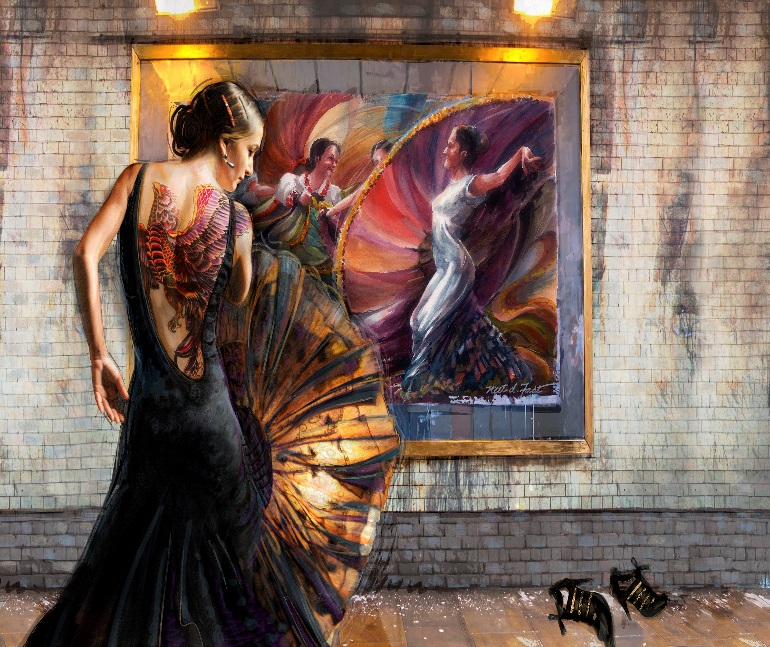 SEPTEMBER 3, 2014--Digital artwork created by Allan Hancock College graphics professor Nancy Jo Ward has been selected for a prestigious exhibit that will be seen by thousands of people around the world. Four of Ward's pieces are featured in "Wide Open Digital 2" presented by Digital Arts: California. The exhibit showcases 80 artists from 17 countries and includes 436 unique images.
Ward, who has been teaching in the Hancock graphics department for 17 years, said it was a major honor to be selected and not just because of the talent represented in the exhibit. "It is exclusively digital art and that is revolutionary. It is exciting to be a new media artist in the beginning of this relatively new, controversial form of art making."
Digital art includes any work whose creation or presentation involves a digital process that enhances the work. Ward has been experimenting with digital art since the late 1990s.
"I usually start working on paper, then digitize it so I can work on it with digital tools," said Ward. "From there, I print it on art paper or a canvas and add more details with chalk pastels or acrylic paint."
Ward said she created the four featured works in the last three years, and each piece has its own story.
"Tribute to Nat Fast" features a flamenco dancer positioned in front of a wall with a portrait of other dancers. Fast, who passed away last year, was a long-time Hancock fine arts faculty member and leader in the local arts community. Ward said she was invited to create the piece based on one of Fast's water color paintings. "The work was my attempt to celebrate his artistic contribution to our community and his love of painting dancers at Hancock," Ward said. "The painting represents resurrection through artistic endeavors and passion for unbridled creation."
Ward donated the painting to the college's art collection. Hancock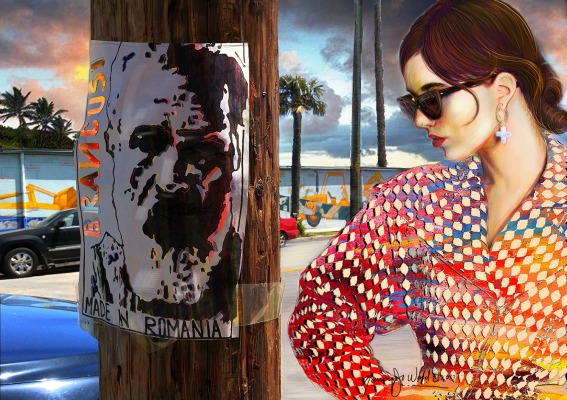 Superintendent/President Kevin Walters, Ph.D. also made a financial donation to the Orcutt Children's Art Foundation Nat Fast Scholarship Fund in Fast's memory.
Another painting, called "Mermaid Dreams," was inspired by Ward's love for swimming and the calming feeling of moving through water. The picture is based on a photograph of the Roman pool at Hearst Castle. "As a I child, I imagined I was a mermaid and eventually resolved it through my art. The mermaid painted here is my daughter, Sierra, who also loves the water."
The third piece, "Brancusi" combines real and graphic spatial illusion and imagery. It depicts a fashionista standing near a light pole.
"Sisters" is a digital painting that features two women posing side-by-side. "The painting is about the connection of family – made strong and resilient through loss and chaos," said Ward.
After being selected to be featured in an international exhibit, Ward hopes to motivate students and other aspiring artists to always fuel their creative minds.
"Working in new media is exciting and showing your work in new venues brings opportunities," said Ward. "I want students to question what tools, knowledge and experience can be called upon to make art for this new century."
"Wide Open Digital 2" is now online at www.digitalartscalifornia.com, click on Current Exhibits then scroll down and click on the gallery titled Nancy Jo Ward.
- AHC -
Captions:
"Tribute to Nat Fast," Nancy Jo Ward; Digital painting (left)
"Brancusi," Nancy Jo Ward; Digital painting (right)