President's Circle

Upcoming Events
Summer Social:
An invitation for President's Circle Members and Their Guests:
Wednesday June 28, 2017 from 5-7 p.m.
Clos Pepe Estate Vineyard
4777 E Highway 246
Lompoc, CA 93436
Please RSVP by Friday June, 23.
Recent Events

Meet the Astronaut Special Private Reception
w/Retired NASA Astronaut José Hernández
Tuesday, March 28, 2017
Ann Foxworthy Gallery – Building L
View reception photos
Spring Gathering
Wednesday, March 1, 2017
AHC Public Safety Training Complex
View Spring Gathering Photos
Fall Gathering
Wednesday, October 19, 2016
Cottonwood Canyon Winery
View Fall Gathering Photos
About the President's Circle
President Circle members are an important group of community members who believe in education and its transformative powers. Through this important unrestricted support, Allan Hancock College is able to assist thousands of students and fund unique opportunities and programs including the following: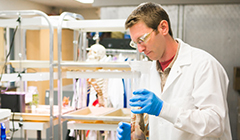 A New Lab Position in Biology
"There is great demand for our biology classes – many of which include specialized labs. With President's Circle funding, we were able to add a new lab position and reduce wait times by adding sections – including one on Saturdays." Linda Metaxas, department chair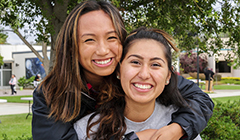 A Pilot Program for Foster Youth
"This program is an extra support system – providing services and knowledge to guide you in the right direction."
Kenya Guerrero-Torres, one of nearly 200 current/former foster youth enrolled at Hancock (not pictured)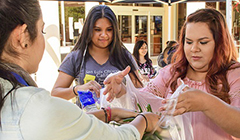 Food Share Because We Care
"I don't know what I would have done without this program. It took a lot of pressure off me worrying about having enough healthy food for the week for my daughter and me."
Joanna Davis, single-parent (not pictured)
For more information or to become a member, click the Join the President's Circle button or contact:
Allan Hancock College Foundation
800 S College Drive, bldg. B, Ste. 106
Santa Maria, CA 93456-5170
(805) 925-2004 · www.ahcfoundation.org
The AHC Foundation is an IRS recognized non-profit organization founded in 1977.
Tax ID # 95-3143396
Once again,The Aspen Institute has chosen Allan Hancock College as one of the top 150 community colleges in the nation. The President's Circle fund augments the important teaching and learning that's occurring on campus by providing flexibility and immediate resources. Members are recognized annually and afforded the opportunity to attend special college events. All contributions are tax-deductible with monthly, quarterly and annual payment options available..
President's Circle members
Aera Energy, LLC
Tim Bennett
Boys & Girls Club of Santa Maria Valley
Mary Braun
Frank Campo
Rod & Kathy Chilcoat
Aaron Clark - Monarch Wealth Strategies
CoastHills Credit Union
R. Bruce & Patricia Coggin
Doug & Terri Lee Coleman
Jay & Victoria Conner
Community Health Centers
Ed & Denice Cora
Tony & Susan Cossa
Dr. Lee-Volker & Michelle Cox
Maggi Daane
Joan & Ernie DeGasparis
Diani Companies
Doug Dougherty - OASIS
Dr. Terry & Inda Dworaczyk
Dr. Marcus & Joanna Engelmann
Ann Foxworthy
James Fields & April Gillette
Freeport-McMoRan Oil & Gas
Erik & Judy Frost
Mike & Marla Gibson
Jim Glines - Community Bank of Santa Maria
Henry & Beverly Grennan
Jeffrey & Rose Hall
Ed & Mary Harvey Trust
Heritage Oaks Bank
Margaret S. Hesse
Dr. Anthony & Penny Hobson
Home Motors
Susan Houghton & Larry Thompson
Mrs. George E. Howard, Jr.
John & Debbie Hunt
Marcia M. Ibsen
George & Karen Johnson
Nancy K. Johnson
Mrs. Elizabeth & Dr. Jerry Jones
Mario A. Juarez, Attorney at Law
Kenai Drilling Limited
Doris T. Lahr
Larry & Krystal Lahr
Royce Lewellen
Marna Lombardi
Bob & Harshada Lotwala
Cheryl & Ted Maddux
Cynthia & Richard Mahon
Andrew Masuda
Dr. Charles & Judy Markline
Toni McCracken
Melfred Borzall, Inc.
Drs. Elizabeth & Sam Miller
Dr. & Mrs. Michael W. Moats, In Memory of William E. Moats
Moxie Cafe - Hardy Diagnostics
Home Motors
Paul Murphy
Eddie & Jennifer Murray
Ron & Mary Nanning
Joe & Jean Olivera
Glenn & Kelly Owen
Pacific Coast Energy Company
Pacific Gas & Electric Company
Dan & Glenda Payne
Cathy & Steve Pepe
Bob & Gina Poole
Alex & Julie Posada
Rabobank, N.A.
Dr. George & Tere Railey
John & Cindy Ross
Santa Maria Times
Santa Maria Valley Chamber of Commerce
Dr. Michael & Georgia Schrager
Patrick & Katherine Sheehy
John & Emily Smith
Smith Family Foundation
Sue Sword
Karen & Doug Tait
Kathleen M. Telleria
Testa Catering
Rick & Marty Velasco
Guy Walker & Molly Carrillo-Walker
Dr. Kevin G. Walthers & Shannon Elliott
Dr. Roger & Catherine Welt
Drs. Ernest & Leslie Zomalt
Zodiac Cabin Interiors
Find Your Future
at Hancock