Consejería en AHC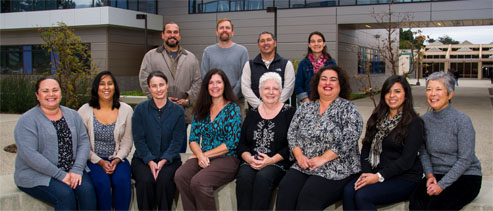 Ubicado en el Edificio A, El Departamento de Consejería de Allan Hancock College está abierto para consejería con cita y para visitas sin citas. Nuestro personal de consejeros le puede asistir con consejería académica o personal y con transferencias. El Departamento de Consejería en Allan Hancock College ofrece una gran cantidad de recursos para ayudarle a lograr el mayor beneficio de su experiencia en el colegio.
Horario*
| | | |
| --- | --- | --- |
| Santa Maria Campus | (805) 922-6966 ext. 3293 | (805) 922-9586 FAX |
Lunes
Martes
Miércoles
Jueves
Viernes

8 a.m. – 4:30 p.m.
8 a.m. – 6 p.m.
8 a.m. – 4:30 p.m.
8 a.m. – 4:30 p.m.
8 a.m. – 4 p.m.
*El horario está sujeto a cambios
Favor de llamar para hacer una cita y para preguntar sobre el horario de las visitas sin citas
Número FAX del Departamento de Consejería: (805) 922-9586
Lompoc Valley Campus
Vandenberg AFB Center
Santa Ynez Valley Center
(805) 735-3366 ext. 5374
(805) 734-3500
(805) 922-6966 ext. 3355
Declaración de la Misión
La misión del Departamento de Consejería es apoyar los objetivos educativos del colegio y reforzar el crecimiento académico, de carreras y personal de cada estudiante. El Departamento promueve el conocimiento y apreciación del mundo complejo en el que vivimos, a través del acceso a personal de diversos grupos étnicos que cuenta con entrenamiento profesional, conocimientos y habilidades.
Resultados del Aprendizaje Estudiantil y Consejería

Logros Principales:
Los estudiantes podrán navegar los servicios de apoyo educativos y estudiantiles para reforzar su éxito.
Los estudiantes tomarán decisiones pro-activas y asumirán la responsabilidad estudiantil.
Los estudiantes podrán identificar los cursos necesarios para alcanzar su enriquecimiento personal y/o sus metas educativas.
FACULTY SPOTLIGHT
Chef Robert Weir
Culinary Arts Instructor
"My students can go out and change the world one dish at a time."
Submit a Testimonial »
We're Changing
the Odds!